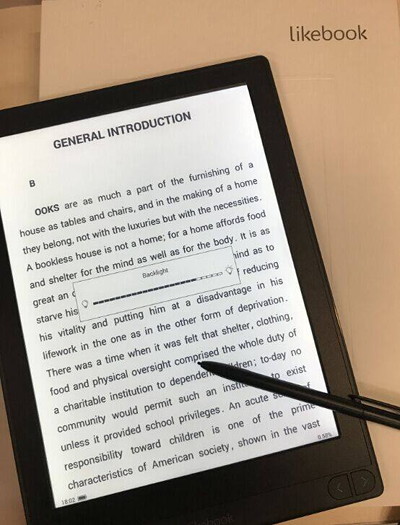 It looks like Boyue is getting ready to release their 10.3-inch Likebook Note T103 soon. They've been saying that for a long time now but it appears that things are finally getting close to finished.
Yesterday Boyue posted a couple teaser pictures on their Facebook page showing the Likebook Note.
What's interesting is the fact that the pictures confirm that it does indeed have a frontlight.
That makes it the first 10.3-inch ereader to have a light; none of the 13.3-inch models have a light either so that makes it unique.
The 9.7-inch Boox N96ML is the only other large-screen ebook reader with a frontlight but that model has started disappearing from online stores lately so I don't know if they're phasing it out or what.
The Likebook Note also has page buttons and hardware buttons for home and back. It adds a memory card slot as well, unlike the other large models. Other features include Wi-Fi, Bluetooth, it has a USB-C port, 16GB of internal storage space, and a headphone jack and dual speakers.
But unfortunately when it comes to specs it's not quite on the same level as the Onyx Boox Note and Sony DPT-CP1. It uses the i.MX6 sololite processor instead of a faster quad-core CPU. It also only has 1GB of RAM instead of 2GB, and it runs older Android 4.4.2 software.
The frontlight and memory card slot give it an edge the other models lack, but will that be enough to make up for the older software and the slower hardware?