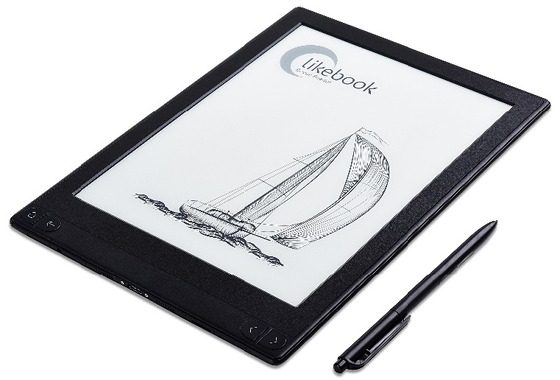 The long-delayed Boyue Likebook Note has finally turned up for sale and the price is surprisingly low compared to similar models, especially considering it's the only one with a frontlight.
As a commenter pointed out earlier today, the Likebook Note is now available to purchase from AliExpress for $419 with free shipping.
The Likebook Note has a 10.3-inch flexible E Ink display with 227 ppi, the same screen as the Sony CP1 and Onyx Boox Note.
It has both a capacitive touchscreen and an electromagnetic touchscreen for writing on the screen with an included stylus pen.
It has 16GB of internal storage space, plus a microSD card slot for expansion. It has Wi-Fi and Bluetooth, a USB-C port, a headphone jack, microphone, dual speakers, and page-turn buttons.
According to the spec sheet, it weighs 386 grams. There are two conflicting sets of measures. One says it's 184 x 255 x 7.5 mm and the other says it's 191 x 262 x 7.8 mm. The battery is listed as 3500mAh.
The downside is it uses a single-core i.MX6 Sololite processor and it only has 1GB of RAM. Additionally, it runs older Android 4.4.2, which has lower compatibility for apps, and it doesn't come with Google Play onboard.
The Likebook Note is similar to the Onyx Boox Note, except the Onyx has better specs with a quad-core processor, along with a higher-quality Wacom touchscreen and newer Android 6.0. But the Likebook could prove to be strong competition for the Boox Note with the lower price and the addition of a frontlight and microSD card slot.