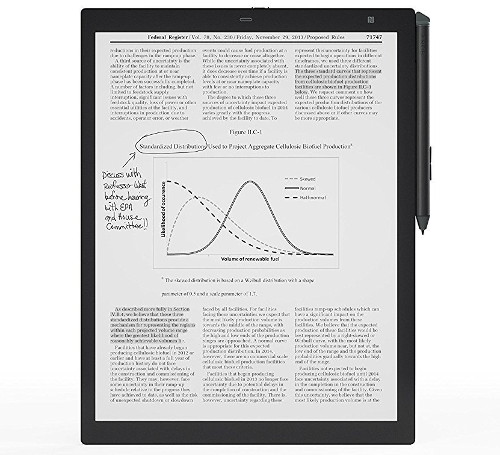 Sony's latest Digital Paper device has already turned up for pre-order.
The 10.3-inch Sony DPT-CP1 has a list price of $599 at Amazon. That's $100 less than its bigger brother, the 13.3-inch Sony DPT-RP1.
Sony's new ereader is expected to get released on June 21st, which just so happens to be one day past the date that the 13.3-inch model was released last year.
Aside from the smaller screen, the Sony DPT-CP1 shares most of the same features as the RP1.
Both are designed to be PDF readers and E Ink notepads. The capacitive touchscreen allows for finger touch and there's an included stylus pen for writing notes, making highlights, and drawing sketches.
As far as hardware, the CP1 has 16GB of storage space, a quad-core processor, dual-band Wi-Fi, Bluetooth 4.2, and it supports NFC. The 10.3-inch E Ink screen has a resolution of 1404 x 1872, and since it's plastic-based instead of glass-based the device only weighs 240 grams overall. To put that in perspective a little, the much smaller 6-inch 3G Kindle Paperwhite weighs 217 grams.
The Sony DPT-RP1 was criticized for having basic software with a minimum of features, and while that's unlikely to change much with the CP1, Sony has at least added support for Android and iOS devices to transfer documents and notes so that's no longer restricted to computers only.
The Sony DPT-CP1 is among a few other 10.3-inch E Ink ereaders getting released in 2018. All emphasize note-taking in addition to ereading. While Sony's software is more restricted than others, the hardware is really impressive. It will be interesting to see how they all stack up.