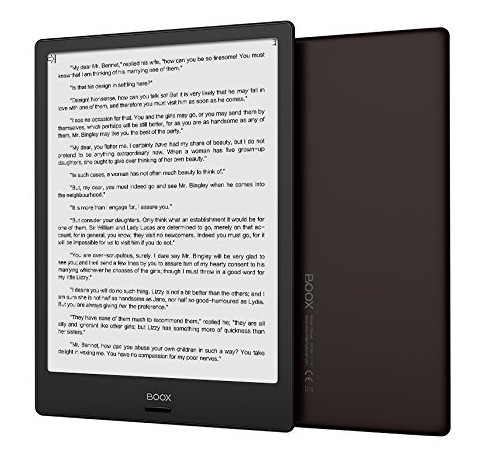 There are a few new 10.3-inch E Ink ereaders and digital notepads expected to get released this year.
The 10.3-inch screens are a new size from E Ink, and they're flexible so they are a lot lighter and more durable than regular glass-based E Ink screens.
The 10.3-inch models have a screen resolution of 1872 x 1404, with approximitely 227 ppi.
Released last fall, the Remarkable was the first device to feature a 10.3-inch E Ink screen, and they've reportedly sold over 50,000 units so they've proven there's a market for these types of devices.
Now some new models are starting to get released. Here's a list of what's shown up so far:
10.3-inch E Ink eReaders and Notepads
Onyx Boox Note – The latest new device from Onyx features a 10.3-inch E Ink screen. It just started shipping this past month in limited quantities. It has impressive specs and the most advanced software on this list. Check back soon for a full review.
Onyx Boox Note Specs
10.3-inch E Ink Carta screen (flexible)
Open Android 6.0 operating system
1.6 GHz quad-core processor
2GB RAM
32GB storage
Wacom stylus
Capacitive touch
Wi-Fi
Bluetooth
Speaker, mic, USB C, 4100mAh battery
Supported formats: PDF, ePub, MOBI, DOC, TXT, DJVU, FB2, HTML, CHM, etc
Size: 250 x 178 x 6.8mm
Weight: 325 grams
Price: £479 at Amazon UK (it's listed on other Amazon website as well, including Amazon.com, but it's not for sale currently)
Sony DPT-CP1 – This model is expected to get released in early June in Japan and on June 21st in the US. Last year it was the same story with the larger 13.3-inch Sony DPT-RP1.
Sony DPT-CP1 Specs
10.3-inch E Ink Carta display (flexible)
Capacitive touchscreen
Stylus pen included, with built-in rechargeable battery
Marvell IAP140 quad-core 1.2GHz processor
16GB internal storage
2GB RAM (assuming it's the same as the RP1)
Dual-band Wi-Fi
Bluetooth 4.2
NFC chip
Supported formats: PDF only
Weight: 240 grams
Dimensions: 174.2 × 243.5 × 5.9 mm
Price: $599 at Amazon
More info: Sony Japan
Remarkable – Best suited for taking notes and creating sketches, the Remarkable was the first 10.3-inch E Ink device to get released. It also doubles as a basic ereader.
Remarkable Specs
10.3-inch CANVAS display, partially powered by E Ink Carta
Capacitive touchscreen
Stylus pen included (electromagnetic
induction) with tilt detection and support for 2048 levels of pressure sensitivity
1 GHz ARM A9 CPU
8GB internal storage
512MB RAM
Dual-band Wi-Fi a/b/g/n
Supported formats: PDF and DRM-free ePub files
Operating system: Codex, a custom Linux-based OS optimized for low-latency epaper
Menu language: English only
Weight: 350 grams
Dimensions: 177 mm x 256 mm x 6.7 mm
Price: $499 USD at Remarkable.com
Boyue T103 (aka Likebook Note) – This model first appeared in 2016 as a prototype and it still hasn't been released, but they keep saying it will be available "soon". I don't read Chinese so it's hard to tell for sure but the pictures on the website make it look like it has a frontlight. The specs and software are outdated, especially compared to the Onyx Boox Note, but if it has a frontlight that would help make up for other deficiencies.
Likebook Note Specs
10.3-inch E Ink Carta screen (flexible)
Android 4.4.2
1 GHz i.MX6SL processor
1GB RAM
16GB storage
Frontlight
Memory card slot, supports cards up to 32GB
Stylus
3.5mm headphone jack, speakers
Wi-Fi
Bluetooth 4.1
USB C
4700mAh battery
Supported formats: ePub, PDF, MOBI, TXT, FB2, RTF, HTML, etc
Size: 255 x 184 x 7.5mm
Weight: ?
Price: ?
More info: Likebook Note
Jezetek P10C – A prototype of a 10.3-inch E Ink device was among some new ereaders recently shown in a YouTube video from a company called Jezetek. One unique thing about Jezetek's P10C model is the fact that it has a frontlight. But I've never seen Jezetek ereaders being sold anywhere so the likelihood of this model becoming available to purchase anytime soon is slim to nil.