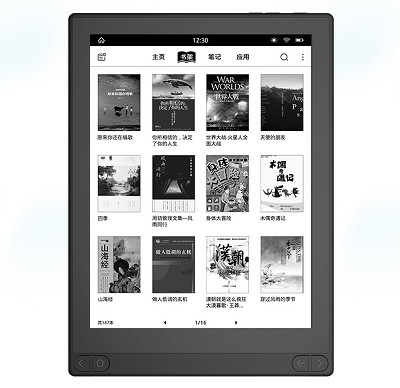 A YouTube video has turned up showing the new 10.3-inch Likebook Note that is expected to get released in June.
The video shows a couple of surprising details. First off, the Likebook Note has a frontlight, a capacitive touchscreen, and it has a stylus for writing on the screen.
That would make it the first to offer all three of those features.
With Onyx they only offer 2 of the 3; for example, the Boox N96 models had the option for a capacitive touchscreen or a frontlight, but not both, and none of the new larger Onyx models have a frontlight.
Second, the software on the Likebook Note appears to be pretty responsive despite the 1GHz single-core processor mentioned in the specs on Boyue's website.
However, an ebook is being demoed, not a PDF, and ebooks aren't very big and usually load rather quickly; it will be interesting to see what performance is like with PDFs.
Also another thing to note is the fact that the Likebook Note runs Android 4.4.2, which is old but that's actually a step up from the Android 4.2.2 software that's on Boyue's other ereaders.
As a big fan of frontlights, it's nice to see at least one of these larger models coming with a frontlight. But after using the Onyx Boox Note for the past two weeks, I'm not sure it's as important as it is on smaller ereaders. These larger E Ink screens seem to catch the ambient light more; I actually don't mind the Boox Note not having a light. The contrast is quite good even in lower lighting conditions.
Either way it'll be interesting to see how the Likebook Note stacks up against the Boox Note and other large-screen ereaders when it gets released.
Boyue 10.3″ Likebook Note