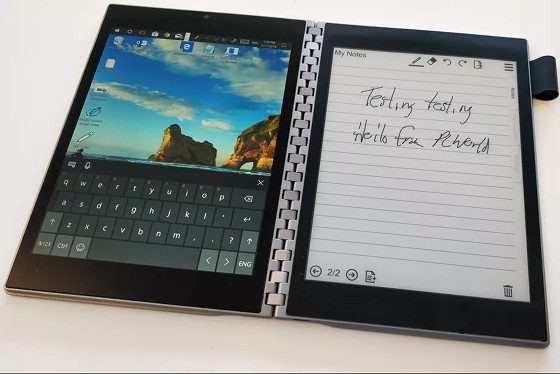 For the past two years Intel has been working on a new concept PC with a two-screen design, although I don't know why they're calling it a PC when it's clearly more like a tablet or digital notebook.
The device is code-named Tiger Rapids, and it's basically a foldable notebook with an LCD screen on one side and an E Ink screen on the other side.
In fact it's just like the Entourage Edge reborn with current technology—the EE was indeed way ahead of its time.
The Intel version is a prototype meant to inspire their partners like Asus and Lenovo to produce similar dual-screen devices in the future.
It's certainly an interesting concept. The device has a sturdy-looking hinge in the middle and the screens can be folded all the way forward and back. It's kind of like combining a Windows tablet with an E Ink notebook.
The E Ink screen can be used as a notepad or keyboard with the device folded like a laptop.
What do you think? It's more of a niche product than regular tablets and ereaders. Would you like to have a device like the Tiger Rapids prototype?
via:PC World
Intel Tiger Rapids at Computex 2018