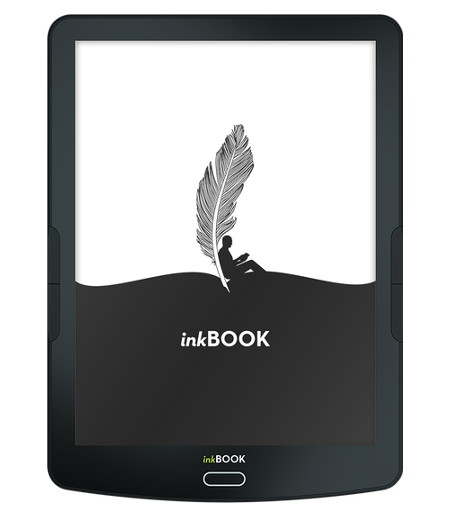 InkBook is expected to start shipping a new ebook reader by the end of July called the InkBook Explore.
It has a 7.8-inch E Ink screen with 300 ppi and a frontlight with adjustable color temperature, just like the Kobo Aura One.
The design is similar to the 6-inch InkBook Prime with the flush front screen, the page buttons on each side, and the sensor button below the screen.
InkBooks are made by Boyue but the InkBook Explore has different specs than the 7.8-inch Boyue LikeBook Plus so it appears to be a new custom model.
The InkBook Explore has 8GB of internal storage space and a microSD card slot for expansion, along with a single-core CPU with 1GB of RAM.
It has Wi-Fi and Bluetooth, but no audio support, and the buttons are programmable. Considering the larger size it's pretty light at 242 grams.
InkBooks run software based on Android 4.4.2 and they are open to install apps, but the older Android version is incompatible with a good share of apps. Too bad Boyue still hasn't started using newer software, but they did update the user interface, according to the description. The included reading app supports ePub, PDF, MOBI, TXT, FB2, HTML, RTF, and CHM formats.
They started taking pre-orders for the InkBook Explore in Poland a couple weeks ago from the InkBook website. The pre-order price is equivalent to about $200 USD.
InkBook, aka Arta Tech, also sells InkBooks on Amazon so I wouldn't be surprised to see the InkBook Explore turn up for sale at Amazon next month too.