Review Date: April 2017 – Review unit provided by Arta Tech
Overview
The InkBook Prime is the latest ebook reader from Arta Tech, an ereader company based in Poland. With a Polish ebookstore onboard, the device is tailored to their home market, but they sell InkBooks in other countries as well from various Amazon websites.
A couple years ago I reviewed the InkBook Obsidian. The InkBook Prime has some upgraded hardware and it still uses the same Android software version, Android 4.2.2, but the firmware has been retooled since then and is quite a bit different now.
There's also the InkBook Classic 2 with a very similar design and software but it lacks a frontlight, Bluetooth, and some other hardware upgrades that come on the Prime. See this InkBook Prime vs Classic comparison review for more details.
Currently the InkBook Prime sells for $119 from Amazon.com and for £119 from Amazon UK, so it's about the same price as the Kindle Paperwhite. It can also be purchased directly from the InkBook website.
Review Summary
Pros
It has a nice lightweight design and a flush glass screen with a set of two page buttons on each side.
The Android operating system is open to installing apps, including various reading apps like Kindle for Android, and the software has some unique features like being able to disable the touchscreen.
The optimized software and faster processor help make it zippier and more responsive than other Android ereaders.
The frontlight is very nice and even, with no weird color tones or shadows.
Cons
The software is more basic than other Android ereaders and it only comes with a couple useful apps preinstalled, with no access to an appstore like Google Play.
Installing apps is a real hit or miss proposition when it comes to E Ink screens and an outdated version of Android.
It has a 212 ppi E Ink screen instead of a higher-resolution 300 ppi screen.
Verdict
The InkBook Prime is one of the best Android ereaders that I've reviewed in terms of performance. It's noticeably faster and more responsive than Android ereaders I've reviewed in the past, and the screen refresh is better with 3rd party apps, but the software is also more basic and there aren't as many features so it comes with some trade-offs.
The software has been trimmed down from what was on the InkBook Obsidian, the previous model. They removed all the non-reading apps like email and the notepad and just left a bare minimum of apps to start with, and it's not easy to add more because they removed the Midiapolis appstore that had a wide selection of apps, so you have to go find app files yourself and sideload them manually.
The design is an improvement over the Obsidian, though. The Prime is more comfortable to hold and the page buttons are easily mappable so they work with 3rd party apps. The device makes a good option for those that want an open Android ereader, but in terms of reading alone it's hard to compare the InkBook Prime with dedicated ereaders like Kindles and Kobos because they have way more reading features included. The InkBook's reading app is very basic by comparison, but one of the main benefits with the Android operating system is you can install a number of other reading apps if you want to, and the Kindle app even works pretty well.
InkBook Prime Video Review
Hardware and Design
The InkBook Prime excels in the hardware and design department. It has an attractive design with a flush glass screen and a set of two page buttons on each side, with a sensor button below the screen that acts as a back button. The page buttons can be programmed for a number of functions in the settings menu, which is nice because that gives you more control over how to use the device and it makes the buttons useful with apps like Kindle that require using volume buttons to turn pages.
The page buttons work well and their placement makes it easy to rest a thumb on the page forward button while holding the reader comfortably one-handed.
At first I didn't think I would get along with the back button sensor below the screen because the one on the Nook GlowLight Plus is super sensitive and easy to trigger, but the one on the InkBook Prime has been programmed more effectively. It doesn't activate if you just brush over it or press and hold down on it like when you're holding the device from the bottom; it only activates with a deliberate press and release action so accidental presses aren't a problem.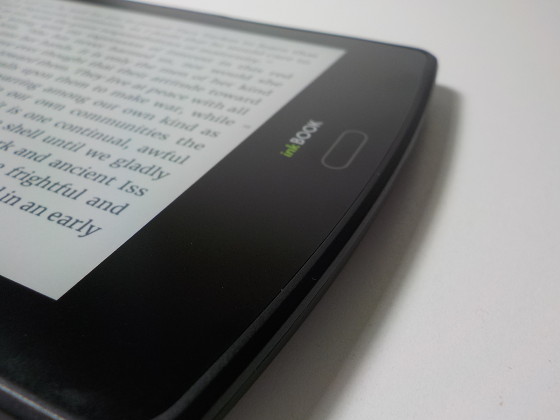 The InkBook Prime is the first ereader I've reviewed with a quad-core processor. The speed can go up to 1.6 GHz and that certainly helps for some things, but when comparing ebook page turns and menu actions with the InkBook Classic 2's dual-core processor they were virtually the same—the Prime does turn pages faster with PDFs though.
Aside from the processor, it has the same 512MB of RAM and 8GB of internal storage space as the earlier InkBook Obsidian, and it has a microSD card slot as well.
It features a 6-inch 1024 x 768 resolution E Ink Carta screen and a two-point capacitive touchscreen with good responsiveness. The screen's frontlight looks really nice; it doesn't have any weird colors or tones at all like some frontlights. The only downside with the frontlight is that it's a little too bright at the lowest setting in a dark room for my eyes to tolerate.
The InkBook Prime has Bluetooth support but I'm not entirely sure why. It has no text-to-speech support or audio apps built-in, and there's not even a note app for using a Bluetooth keyboard, so you pretty much have to sideload something to make use of it. I'll post a separate review to test a Bluetooth keyboard and speakers next week.
Software Features
For whatever reason Android-based ebook readers always use an older outdated version of Android. The InkBook Prime is no exception—it runs Android 4.2.2 and it's setup a lot differently than it would be on a phone or tablet. There are only a few reading-specific apps included and none of the extra stuff typically associated with Android or Google.
In fact there aren't any Google apps installed, and unlike the InkBook Obsidian it doesn't come with an onboard alternative appstore to download Android apps from either, just a small appstore with about 10 reading apps. It would be a lot more useful it had the same appstore that was on the Obsidian.
The problem with not having an appstore is it makes it a total pain to install apps. You have to sideload everything and go Googling for apk downloads from untrustworthy sources. Quite frankly I don't want to play the apk hunting game anymore, and it's too much of a crapshoot trying to find apps that work well with E Ink anyway.
One of the main advantages the InkBook Prime has over other Android ereaders is the fact that the Kindle for Android app actually works pretty well. With most ereaders there's too much ghosting after a few pages and the text starts to look washed-out and faded, but the InkBook Prime refreshes the page quite well when using the page buttons to turn pages—the text stays nice and clear even after many page turns.
However, not all 3rd party reading apps works so well. The Kobo app is included in the appstore too and it installs fine but it would not load the first several times I tried it. Eventually it did load as I was doing the video review so I guess it works sometimes. People have asked about the Google Play Books app but it's not going to work either because the device doesn't support Google accounts. The Play Store can probably be added through some workaround of sorts but I don't know it.
The default reading app that comes with the InkBook Prime works well but it's fairly basic compared to other apps and ereaders. It supports ePub and PDF, including Adobe DRM, and some other formats listed below. It has the usual adjustable font sizes, along with three line spacing and margin settings, and a few different font choices, including Andada, OpenDyslexic, Droid Serif, Vollkorn, Merriweather, and the option to use the publisher's font.
The reading app supports switching to landscape mode. There's also a high contrast mode that inverts the screen so that text is white and the background is black. Normally I don't like this setting on E Ink because it causes more ghosting and afterimages, but the screen refreshes fully on the InkBook when using inverted text so that's not a problem—every page looks clear.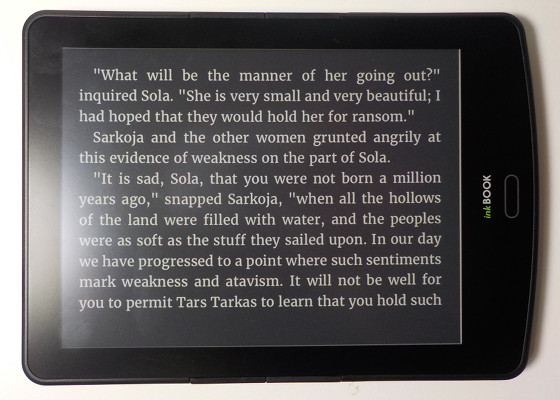 You can add notes, bookmarks, and highlights to ebooks, but I found that highlighting isn't accurate and it's difficult to adjust the start and end points.
The default app also has search, a table of contents, and you can jump to specific pages. It comes with two dictionaries, an English dictionary and a Polish dictionary, and the English one does translations only and not definitions so it's usefulness is limited. Apparently they're going to be adding more dictionaries with an update.
At this stage in the game PDF functionality is severely limited. There aren't any zooming or cropping features and landscape mode inexplicably shows the entire page but only on half the screen, so the app is pretty much only useful for PDF reflow, which works well for PDFs that are text only with no images, columns, or complex formatting. They're going to add PDF zooming with a software update so I'll post a separate PDF review after that happens.
The InkBook Prime only comes with a handful of preinstalled apps. There's a Midiapolis cloud drive app and news reader, along with an onboard Polish ebookstore. There's an internet browser and a basic file manager. I haven't had good luck with the latter. It crashes whenever trying to delete something and it will only move one file at a time.
The best thing about the InkBook software is that it responds and navigates smoothly, and there are some advanced customizing options like being able to change the behavior of the buttons. The device also allows you to disable the touchscreen to avoid accidental presses if you just want to use the page buttons. You can also customize the list of apps that appear on the homescreen for quick access to your favorites, and change the lock screen image.
Overall the software runs well and is faster to respond than I'm typically used to with Android ereaders, and the hardware is quite nice too (I don't even mind that it doesn't have a 300 ppi screen because the text looks fine) but at the end of the day it feels like the InkBook Prime's software is a work in progress. It needs more than the few basic apps that it comes with to realistically compete with Kindles and Kobos. Without easy access to apps the potential of the Android software is severely limited. Because of that this type of device is going to be best suited for advanced users that know how to find and install Android apps themselves, or users that are fine with a basic ePub app and the few ebook apps that are included in the appstore.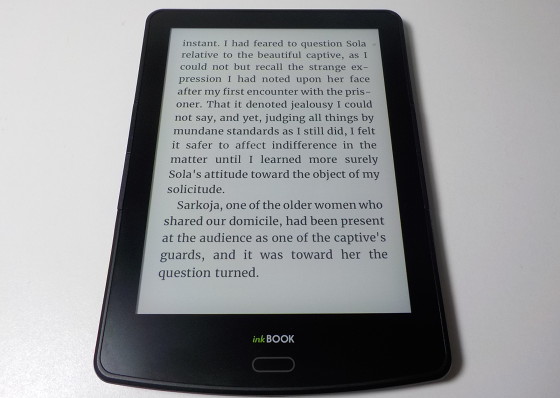 InkBook Prime Specs
6-inch E Ink Carta display with Rapid Refresh technology.
1024 x 768 pixel resolution (212 dpi).
Capacitive touchscreen (2-point).
Frontlight with adjustable brightness.
Android 4.2.2 operating system.
1.6 GHz Quad-Core Cortex A9 processor.
8GB storage space (~5.5 GB available).
512MB RAM.
Wi-Fi 802.11 b/g/n.
Bluetooth.
MicroSD card slot for cards up to 32GB.
Micro USB port.
Battery life: ~2 weeks.
Supported languages: English, German, Spanish, French, Italian, Polish, Romanian and Czech.
Supported formats: EPUB and PDF (with reflow), Adobe DRM, Sony URMS DRM, MOBI, TXT, FB2, HTML, RTF, CHM.
Dimensions: 114 x 159 x 9 mm.
Weight: 168 grams.
Available from Amazon and InkBook Website.