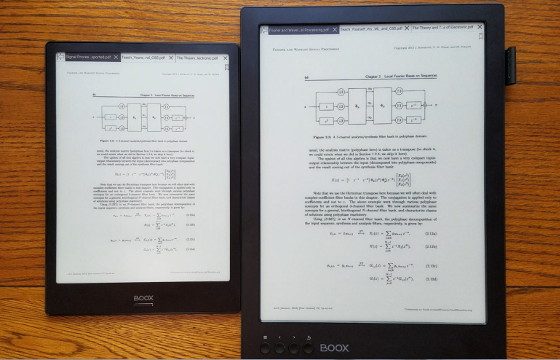 Here's a quick comparison review between the 10.3-inch Onyx Boox Note and the 13.3-inch Onyx Boox Max2.
Aside from the size difference, both devices are mostly the same.
Both have the same quad-core CPU with 2GB of RAM and 32GB of storage space.
Both have Wi-Fi, Bluetooth, capacitive touchscreens and Wacom touchscreens, and both come with the same stylus pen.
According to the spec sheet, the Note supports more levels of pressure sensitivity at 4096. The Max2 is listed as supporting 2048 levels of pressure sensitivity, but I can't really tell much of a difference.
Aside from the screen size, the main difference with the Max2 is the addition of a micro HDMI port to use the device as a secondary monitor. It's possible to use the Note as a monitor too with mirroring apps, but there's probably more lag (I haven't tried it).
The Max2 adds a 3.5mm headphone jack, page buttons, and a menu button, whereas the Note just has a back button.
The 13.3-inch screen on the Max has 207 ppi and the 10.3-inch screen on the Note has 227 ppi. Both are flexible E Ink Carta screens.
The build quality of the Max2 feels more solid and rigid than the Note, which has a bit of flex to the frame. The Max is a lot bigger and heavier, though. It's really more of a two-hand device, whereas the Note is light enough to easily hold one-handed.
The Onyx Max2 weighs in at about 550 grams and measures 325 x 237 x 7.5 mm.
The Note on the other hand weighs in at about 334 grams and measures 250 x 178 x 6.8 mm.
The Note has a USB-C port and the Max has a micro USB port.
Both have 4100mAh batteries, and both run the same Android 6.0 software with support for the Google Play Store to download apps.
Another significant difference is the price. The Boox Note sells for $549 and the Max2 sells for $799.
It pretty much comes down to how big of a screen you want. I don't have any problems whatsoever reading PDFs on a 10″ screen, especially with Onyx's margin-crop features, but the larger screen of the Max2 definitely comes in handy when using the device as a secondary monitor, and when using the sidenote feature in landscape mode it helps to have a larger display since the PDF is only on half the screen.
See the full Onyx Boox Note review for more details about the device and for a closer look at the software and note-taking application.
Boox Note vs Boox Max2 Video Review