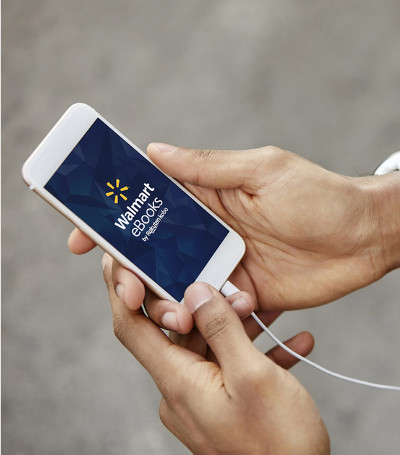 The Kobo Walmart partnership announced earlier in the year has finally come to fruition in the US.
Residents of the United States can now purchase ebooks, audiobooks, and Kobo ebook readers through Walmart's website, although the ebooks and audiobooks just redirect to Kobo's website with a Walmart logo.
The ebooks and audiobooks are also available through the new co-branded Walmart eBooks app for Android and iOS.
3,500 Walmart stores will start selling digital book cards that you can purchase in store and redeem online, but it only includes about 40 titles.
Kobo ereaders will be sold in 1,000 Walmart stores and online. Some Walmart stores are staring to put up displays this week.
All four current Kobo models are available now from Walmart.com, starting at $99 for the Kobo Aura 2, but the reviews are very suspicious.
Walmart is advertising a promotion for new customers that sign up to get a $10 credit toward the purchase of their first ebook or audiobook. That's double the credit first-time customers get through Kobo. But Walmart is offering the same $9.99 per month audiobook subscription deal where you can get your first audiobook for free.
Fake Reviews
The biggest oddity about this whole thing is the fact that Walmart has posted dozens of phony reviews for Kobo's devices. Some of the reviews were taken from Walmart Canada, and those seem real.
I was wondering how they had so many reviews posted for these devices, especially considering Kobo doesn't have any reviews on their website, and as I started to read them it's clear that many of the reviews are fake. For starters, almost none of them say anything negative.
Some of the reviews say stuff like, "It is also easy to purchase books on the Walmart website to have all your reading in one place." Well, that's an odd thing to say considering Walmart didn't start selling ebooks until today, and the review is dated from over a month ago.
"Walmart eBooks also has the largest selection of books." – Posted July 10th, over one month before Walmart started selling ebooks.
"Or you can connect it to the Walmart ebooks app and upload the books which you bought there." – Posted July 17th, over a month before the Walmart ebook app was launched.
"Walmart also offers the most impressive library in terms of scope and price…" – Posted July 17th.
Lots of reviews make sure to mention how much better the Kobo device is than a Kindle, and how it offers a blue light filter unlike Kindles.
Many of the reviews say they were written as part of a contest. Was it a contest to see who could post the most convincing fake reviews? At best they gave away a bunch of free devices in exchange for positive reviews. Either way these reviews clearly weren't posted by paying customers.