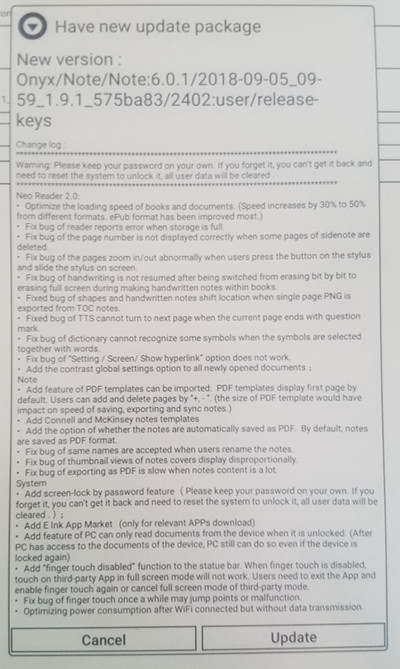 Onyx has started rolling out a new software update for their Android 6.0 devices, including the Onyx Boox Note and Max2.
The new software version is 1.9.1. It's dated for September 5th. The update includes a number of bug fixes and some new features, including the option to lock your device with a passcode.
The lock feature is located at Settings > Systems > Keyguard Setting.
They also added a couple of new apps, including a basic E Ink appstore where you can download a few Android apps, such as Kindle and Kobo.
I don't know why they have OneNote in there though because it's way too laggy to use with Onyx's stylus.
Another new thing they added is the option to turn on and off the capacitive touchscreen from the menu bar.
The update will automatically download and install if you have auto updates turned on. If not you can go to Settings > About > System Update and hit the check for update button.
Onyx has a Firmware Updates section on their website where you can download updates but they haven't added the 1.9.1 update just yet.
New Passcode Lock with 1.9.1 Update