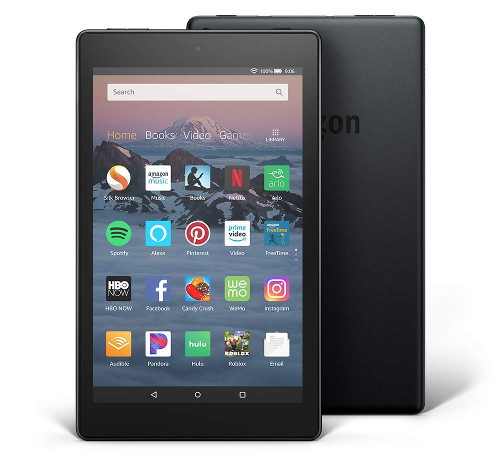 Today Amazon announced the upcoming release of a new Fire HD 8 tablet, except it's pretty much exactly the same as the last Fire HD 8.
In fact the only real noteworthy change seems to be that addition of hands-free Alexa support, which was previously only available on the Fire HD 10. With the older HD 8 the device had to be plugged in or the screen had to be on for hands-free Alexa to work.
The only other notable difference is estimated battery life has gone down from up to 12 hours to 10 hours.
Most of the listed specs remain the same as before, except the new version supports microSD cards up to 400GB (previously 256GB) and it has a 2MP front camera instead of VGA.
The dimensions are identical, but the weight has gone down 6 grams.
The price for the HD 8 still starts at $79 for 16GB with ads, and it still only has a 90-day warranty. Like before, it's available in black, yellow, red, and blue.
The new 8th gen Fire HD 8 is expected to get released on October 4th. They also have a new Fire HD 8 Kids Edition to go along with it for $129.
Too bad they didn't at least upgrade the screen resolution to make it better for reading.
It's pretty pathetic when they only add one new model to their lineup all year and then they only add one new feature. What a boring year from Amazon with no new Kindles expected and nothing remotely interesting on the horizon.