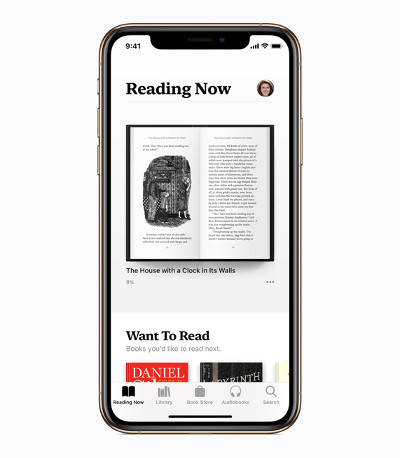 Today Apple officially released iOS 12, their latest operating system for iDevices, including the iPad Air and newer and the iPhone 5s and up.
Among a number of changes, Apple iBooks is no more. Now Apple's ebook app is simply called Apple Books. It has a new look and some new features, most of which are designed to sell more books and audiobooks.
To get the update on a compatible device just go to Settings > General > Software Update to start downloading it.
For the most part not much has changed with the Apple Books app. It has a new name and a new look but most of the reading features, fonts, themes, and layout remain exactly the same as before.
Here's the Apple Books section of the changelog:
Apple Books

All-new design that makes discovering and enjoying books and audiobooks easy and fun
Reading Now makes it simple to get back to the book you're currently reading or find great recommendations for what to read next
Add books to the new Want to Read collection to keep track of what you'd like to read next
The Book Store makes it easy to find your next favorite read with new and popular selections from our Apple Books editors and recommendations chosen just for you
The new Audiobooks store helps you find immersive stories and informative nonfiction books narrated by your favorite authors, actors, and celebrities
Here's the page with the full list of new features available on iOS 12.
Update: Since so many people hate Apple's new "Books" app, here's a list of some of the best alternative reading apps for iOS.