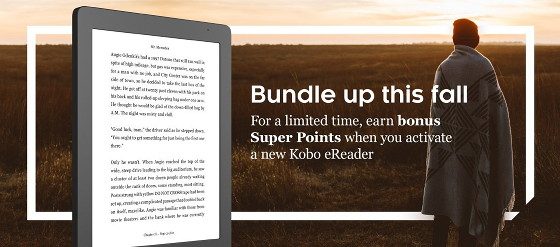 Kobo is running a Super Points bonus promotion again when buying a Kobo ereader from their website.
The deal is being advertised on Kobo's US website as well as their Canadian and UK websites.
The way it works is you can get 6,000 – 12,000 Super Points depending on which Kobo model you purchase.
The Super Points can then be used to buy ebooks and audiobooks from Kobo.
The fine print indicates that the device must be purchased from Kobo.com by September 30th, 2018. And the device has to be activated within 3 months of purchase, after which it takes 7-10 business days for the Super Points to get added to your account.
The deal breaks down like this:
Kobo Aura One – 12,000 Super Points
Kobo Aura H2O – 9,000 Super Points
Kobo Clara HD – 6,000 Super Points
The $279 Limited Edition Kobo Aura One is inexplicably excluded from the promotion, and so is the Kobo Aura.
Here's the link to the page with eligible titles for Super Points to get an idea of how many books and/or audiobooks you can get with the number of points.
Since Kobo never puts the Kobo Aura One on sale (it was released 2 years ago now and they still haven't put it on sale one single time), this promotion is about the only way to get a discount on it unless you order it from Chapters in Canada and take advantage of the favorable exchange rate if you're in the US. The one other way is to use Walmart's ship to store method, which includes a discount of about $14.
Speaking of Walmart, it's a shame that Kobo's US distribution model remains so disjointed. Once again they're rewarding people for not buying a Kobo ereader from Walmart, just weeks after launching their new partnership.
They should give the Super Points out regardless of where the device is purchased, and when Kobo has a device on sale on their website, Walmart should be having the same sale. But Walmart doesn't even offer Super Points when buying ebooks through their version of the Kobo store so again Kobo is rewarding people for buying from them directly instead of through Walmart. That seems like an odd way to approach a new business partnership.