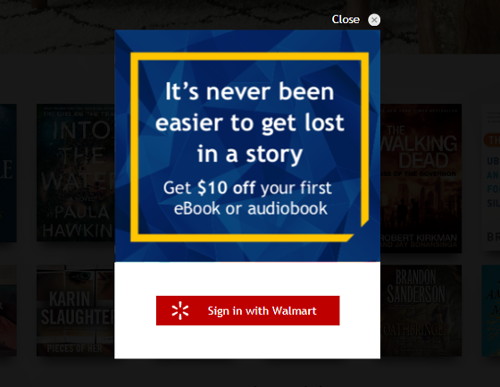 One detail that is easy to overlook with the new Walmart Kobo partnership is the fact that you can get $10 off your first ebook or audiobook purchased through Walmart's version of the Kobo store.
The offer is valid on all titles priced over $10, including new releases and best sellers, which are usually never eligible for coupon codes and special promotions so this is about the only way to get a discount on ebooks from the greedy, price-fixing big publishing companies.
If there's a new ebook that you'd like to read but don't want to spend a ridiculous $12-$15 on it, then this is a good way to get it for a reasonable price.
All it requires is creating a free account with Walmart eBooks.
Since the deal is being offered by Walmart, it's only available to US residents, and the offer expires at the end of the calendar year.
The deal only applies to the very first purchase. I think even if you download a free ebook it seems to negate the $10 off offer so be warned.
If you already have a Kobo account, you can still take advantage of this $10 off deal. After using the $10 discount, you can link your Walmart and Kobo accounts together to add that book to your Kobo library.
Or you could just simply download the ePub version of the book from your Walmart Kobo account and then not use that account anymore.
One of the stipulations is the ebook or audiobook has be priced over $10, which is kind of odd when you think about it. Why should they care if you want to use it for an $8 book instead? Then you'd be saving them $2. What a tragedy.