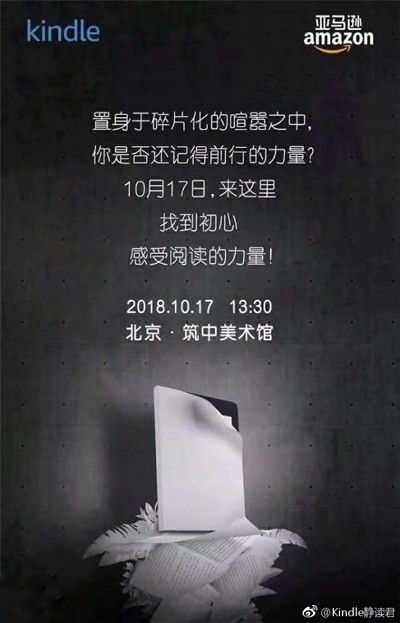 It looks like Amazon is getting ready to release a new Kindle next week. It might only be available in China, but let's hope it turns out to be more interesting than that.
The image above turned up on a Chinese website earlier this week. It's an invitation to a Kindle event in China on October 17th, but why would they have a new Kindle unveiling scheduled in China of all places?
It might be a model specific to the Chinese market like the co-branded Kindle X, which includes a Chinese ebook store in addition to Amazon's ebook store.
But if a new Kindle is getting released in China next week, and it's not just a remake of a current model, then a new Kindle will most likely get released in other markets as well, especially since Kindles aren't even that popular in China.
The timing makes sense. If a new Kindle isn't announced soon it's not going to happen in 2018. Last year they announced the Kindle Oasis 2 on October 11th.
The entry-level Kindle and Kindle Paperwhite are both due for an upgrade. The former has the same outdated, low-resolution screen that ebook readers used 8 years ago, and the Paperwhite is a lot heavier than other 6-inch models and it's the only current Kindle without Bluetooth for audiobooks.
With pre-orders starting on October 16th for the new Kobo Forma, it wouldn't be surprising to see Amazon announce a new Kindle at the same time. And since the Kobo Forma is using a new flexible Mobius screen from E Ink, hopefully the new Kindle will too.
Stay tuned for a possible announcement early next week!