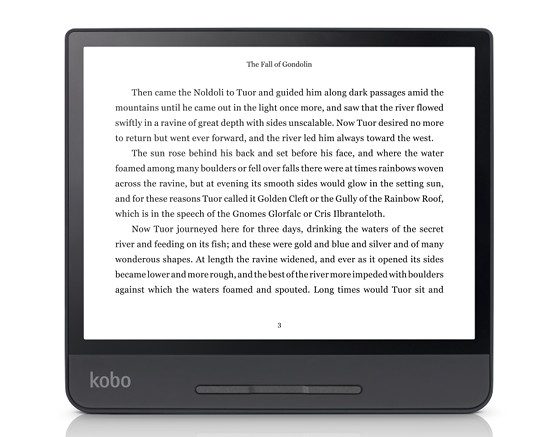 Kobo's latest ebook reader, the 8-inch Kobo Forma, is now shipping. It officially gets released on October 23rd.
There are three places you can order a Kobo Forma from in the United States. Each has its own unique set of advantages and disadvantages.
Unfortunately if you live in the US there isn't going to be anywhere you can go to see one in person before buying.
Kobo's Walmart partnership has turned out to be rather half-assed so don't expect any to show up on display at Walmart stores anytime soon, if ever.
However, you can have the Kobo Forma shipped to your local Walmart to pickup in-store, and if there's any problem with it you could easily return it at the store instead of having to ship it back to Canada, where Kobo is based.
Ways to Order a Kobo Forma
Kobo.com – You can order Kobo ereaders directly from Kobo's website. Shipping is free so the price of the Kobo Forma is $279.99 total plus tax if applicable. The last two times I ordered from Kobo their shipping was fast and the package was delivered by UPS and required a signature.
Chapters.Indigo – They are based in Canada but ship to the US. This is the cheapest way to get a Kobo Forma in the US because they charge in Canadian dollars. Even when having to pay extra for shipping the price is closer to $250, depending on the current exchange rate, but be careful because some banks charge extra for foreign currency transaction fees (to bypass this you can use PayPal). My experience with ordering from Indigo is their shipping is much faster than the estimated date, but my last order got stalled at customs for an extra week compared to the Kobo order. My packages were delivered by the USPS and required a signature.
Walmart – Walmart is probably the fastest and easiest way to buy the Kobo Forma because you can return in to a store if something is wrong or if you decide you don't like it. They also have free 2-day shipping, or you can pick it up at a local store. The only downside with ordering from Walmart is the added sales tax makes the price even higher. However, they offer a discount when using the in-store pickup option, which brings the price down to $262.83 before tax.