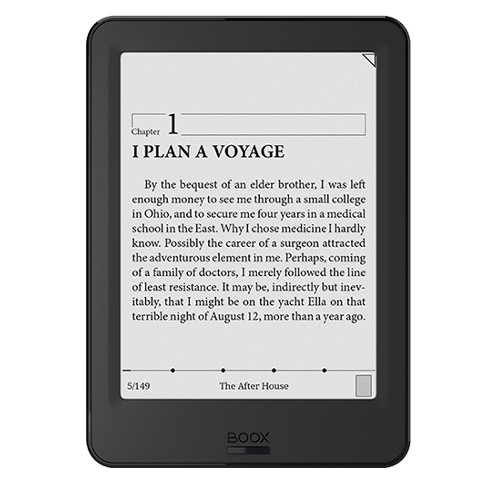 In addition to the new 7.8-inch Onyx Boox Nova that's getting released soon, Onyx also has a couple of new 6-inch ebook readers, the Onyx Boox Poke and Poke Pro, that are expected to get released in November or December.
The Poke has a similar design to the larger Nova and Note models with a single button below the screen, but unlike those models there are two different software and hardware configurations available.
The regular Poke has a quad-core 1.2GHz processor with 1GB of RAM and 8GB of storage space, and the Poke Pro has a 1.6GHz processor with 16GB of storage space and 2GB of RAM.
Both have the same 300 ppi E Ink Carta display with a capacitive touchscreen and a frontlight with adjustable color temperature.
It has Bluetooth for audio and text-to-speech, and of course Wi-Fi. It measures 160 x 114 x 7.8 mm and weighs 175 grams. It has a 2500mAh battery and a USB-C port.
For some inexplicable reason they've decided to use Android 4.4 on the regular Poke and Android 6.0 on the Poke Pro. It's odd to use two different software versions on the same device. Onyx's built-in software supports over 20 formats so either way it can handle a lot of file types, but app compatibility is a lot better with Android 6.0.
Onyx Boox Poke and Poke Pro