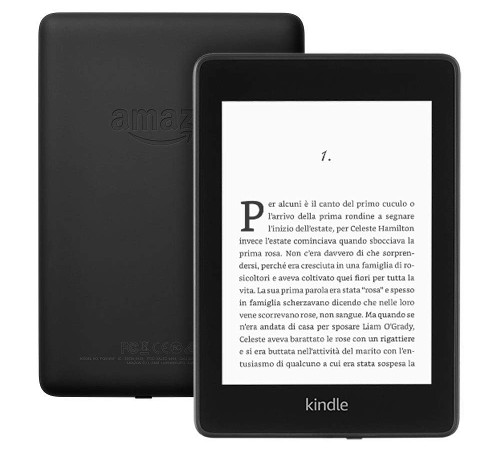 Now that Amazon is accepting orders for the new 4th generation Kindle Paperwhite, the question is did they include enough new features to entice existing Kindle owners to upgrade to the new model?
The main thing the Kindle Paperwhite 4 adds is waterproofing and more storage space (8GB and 32GB). They also added a flush front screen similar to the Kindle Voyage and Bluetooth for listening to audiobooks from Audible.
The new Kindle Paperwhite is also thinner and lighter than the previous model, but to be fair it's still slightly heavier than most other current 6-inch ereaders.
It still has the same 6-inch 300 ppi E Ink Carta screen as the Paperwhite 3 and Kindle Voyage so there's no difference there.
Is adding waterproofing, more storage space, and Bluetooth for audiobooks enough to get people to upgrade?
The average Kindle user probably doesn't even care about those things. It seems like very few people even use Audible on a Kindle, and how many times have you ever heard of a Kindle or other ebook reader being ruined by water damage?
One thing I think Amazon continually misses out on with new Kindle releases is giving people who already own Kindles enough of a reason to upgrade to a newer model since the changes are often so minor.
If they released a larger 8″ or 10″ Kindle I think a lot of Kindle users would feel more inclined to upgrade, but when they keep releasing 6″ models with the same screen and same general features as previous models from the past 5 years I think most people will just stick with what they've already got.
Luckily the Kindle Paperwhite 4 adds a lot more new features than the Paperwhite 3 did when it was released, but it's not like there's anything particularly new or unique about the Kindle Paperwhite 4.
If you have an earlier Kindle without a light, then I think the new Kindle Paperwhite is definitely worth considering just for the added frontlight alone.
But is it worth upgrading if you have an earlier Kindle Paperwhite model or a Kindle Voyage?
Check back in a couple of weeks for a full review of the new Kindle Paperwhite, with video comparisons between the other Kindles to help answer this question for good.