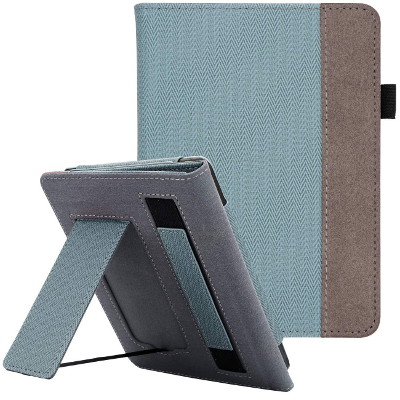 The new waterproof Kindle Paperwhite 4 was just released less than 3 weeks ago, and a bunch of third-party covers are already available for it (meanwhile I've still yet to see a single third-party cover for the Kobo Forma).
Amazon offers three different cases of their own for the new Kindle Paperwhite, including a fabric water-safe cover for $29, a leather cover for $39, and a premium leather cover for $59.
The advantage with third-party covers is they're usually a lot cheaper; Amazon's covers are pretty expensive.
In fact several of the alternative covers currently available cost less than $10.
When searching for cases and other accessories for the Kindle Paperwhite 4, make sure the description says it's compatible with the 10th generation Kindle, the 2018 model. Even though it's the fourth gen Paperwhite model they refer to it as the 10th gen Kindle.
The previous Kindle Paperwhite models have a slightly different design so covers aren't interchangeable with the new model.
It's worth noting that all the cases on the list below have the wake/sleep magnet to automatically turn the Kindle on and off when opening and closing the cover—it's a standard feature with most covers these days.
Kindle Paperwhite 4 Cases
Vandz Fabric Cover – This cover is similar to Amazon's fabric cover but it doesn't say anything about being water-safe. It's available in several different colors and currently sells for under $9 with free shipping.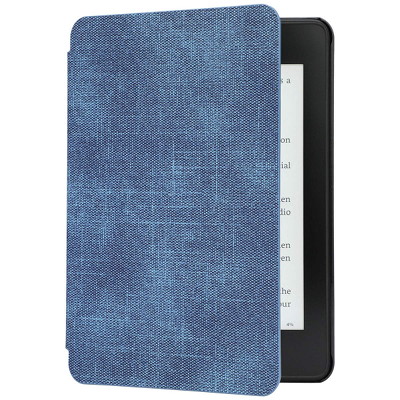 Fintie Slimshell Case – Fintie is a popular brand when it comes to third-party Kindle covers. Their covers are available in a variety of colors and designs, some are PU leather and others are fabric. They are currently priced below $18, with the black one being only $10.
Ayotu Magic Book Series – Lots of different cover designs with these cases, and they claim they are waterproof and are crafted from premium anti-skid PU leather.
TiMOVO Standing Origami Cover – These covers have the foldable design that lets you prop them up to use as a stand.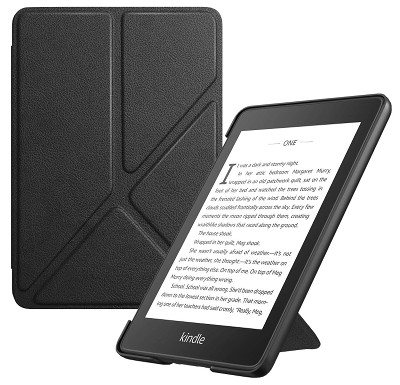 ACdream Leather Smart Cover – These come in eight different colors and are very inexpensive PU leather covers that sell for less than $13.
MoKo Smart Shell Cover – MoKo is another popular cover-maker. These covers are synthetic leather and come in a variety of colors and designs. They currently sell for $9-$16.
Walnew Smart Protective Cover – These Walnew covers are a bit more eye-catching and creative than the other covers on this list. They come in a bunch of different designs and are priced under $15.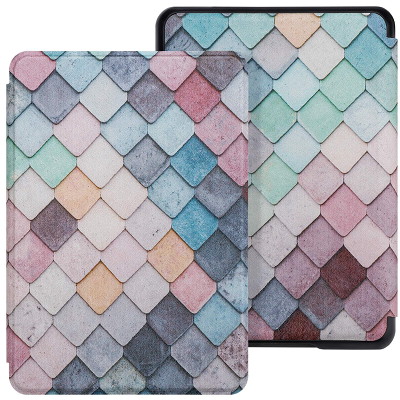 Omoton Shell Cover – The description says these have a waterproof PU leather exterior with a plexiglass layer in the middle, and a no-scratch microfiber interior.
Infiland Case – Another inexpensive cover option for under $10. It looks like fabric but the description says it's PU leather.
Walnew Stand Case – Another unique cover from Walnew that doubles as a stand (shown at the top of this post). Available in a several color options for under $20.