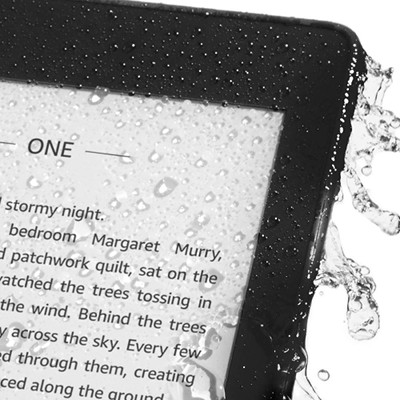 Amazon released the new waterproof Kindle Paperwhite earlier this month, and if you look closely on the product page you'll find a link to a page with additional information about the Kindle Paperwhite's waterproofing.
It's basically the same exact thing they said about the Kindle Oasis 2 when it was released last year.
Waterproof is sort of a loose term; water-resistant would be a more accurate description.
The Kindle Paperwhite is IPX8 rated, meaning it can withstand being submerged in up to 2 meters of fresh water for up to 60 minutes.
You can't actually use the Kindle Paperwhite 4 underwater or subject it to prolonged exposure to water. In fact Amazon recommends not even using it in steam rooms or other high humidity environments.
Here's what Amazon suggests you do if your Kindle Paperwhite gets wet:
If your Kindle is splashed with water, wipe it off with a soft cloth and keep on reading. If your Kindle is immersed in water, remove its cover, make sure no cables are plugged into the device, and do not attempt to charge your Kindle until it is completely dry. If your Kindle is immersed in salt water, chlorinated water, soapy water, or liquids other than fresh water, make sure you rinse that liquid out of the device with fresh water such as cold tap water. Then dry your Kindle.
To dry your Kindle, they suggest setting it upright in a well-ventilated area and the letting the excess water drain out of the micro-USB port, gently tapping the side of the device as necessary.
Here's the link to the help article for more info: