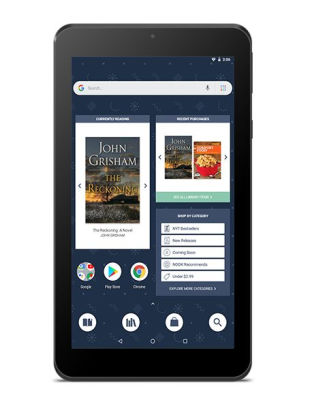 Barnes and Noble has released a new 7-inch Nook tablet to go along with their new 10.1-inch Nook tablet that they just released last month.
The new 7-inch Nook tablet has twice as much storage space as the previous model (16GB) and it's still priced at a wallet-friendly $49.
The 7-inch Nook tablet is basically Barnes and Noble's answer to the 7-inch Fire tablet.
Both share many of the same specs but the Nook has the advantage of having more open software (Android 8.1) with Google Play pre-installed, and it doesn't have the annoying screensaver ads that cost an extra $15 to get rid of.
As far as specs, it has a quad-core processor with 1GB of RAM and 16GB of storage space, with a microSD card that supports an additional 128GB. It has front and rear cameras, Bluetooth, dual-band WiFi, a headphone jack, speaker and mic.
It has a low resolution 1024 x 600 screen (171 ppi) but that's what you get for $50. Battery life is rated at up to 7 hours of mixed use.
These low-end tablets can do a lot for the money, but they can be very sluggish so they require a good amount of patience to use. Too bad B&N doesn't add more Nook ereaders to their lineup; they always have several tablet models to choose from but only one E Ink Nook.