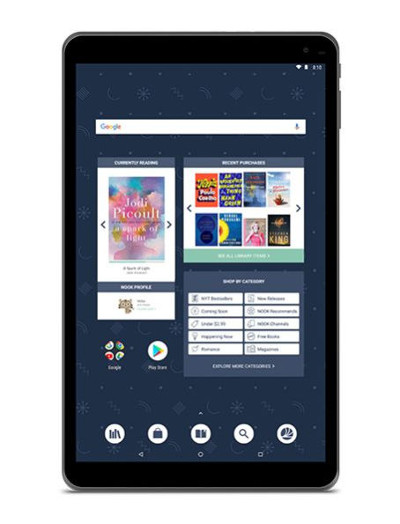 Barnes and Noble has a new 10.1-inch Nook Tablet that's going to be available for $129 starting November 14th.
It's an inexpensive Nook-branded tablet this time around instead of a co-branded Samsung tablet. It's creatively called the Nook Tablet 10.1″.
It's a lot like the current Fire HD 10 but it's $20 cheaper ($35 cheaper when you consider removing Amazon's ads).
Like the Fire HD 10, it has a full HD 10.1-inch screen with a resolution of 1920 x 1200 (224 ppi), so that makes it a good option for ereading.
It comes with 32GB of onboard storage space, and it supports microSD cards up to 256GB.
It has dual-band Wi-Fi, 2MP front and rear cameras, a 3.5mm headphone jack, and a micro USB port. One would assume it has Bluetooth as well even though it's not specifically stated.
On the description page it says battery life is rated at up to 7 hours for mixed use and then further down the page it says 8.5 hours so apparently they don't really know.
No where do they bother to mention what kind of processor it has, or how much RAM. They say it's lightweight and comfortable to hold but how lightweight is anyone's guess. And who knows what version of Android it's based on because B&N doesn't bother to mention that either. You would assume that it runs Android 8.0 or 8.1 since it comes with Google Play onboard but you never know with B&N.
If Barnes and Noble doesn't find a way to botch things up again the new Nook Tablet could end up being a good alternative to Amazon's Fire HD 10 as an inexpensive 10-inch tablet with a high resolution screen.
B&N is now accepting pre-orders for the new Nook Tablet for $129, but the press release says it will be on sale for $119 from November 22nd through December 26th. They're also going to be offering a cookbook bundle promotion starting the 22nd where customers can get the new Nook Tablet with a charging dock and $50 worth of Good Housekeeping eCookbooks for $159.
via: Press Release