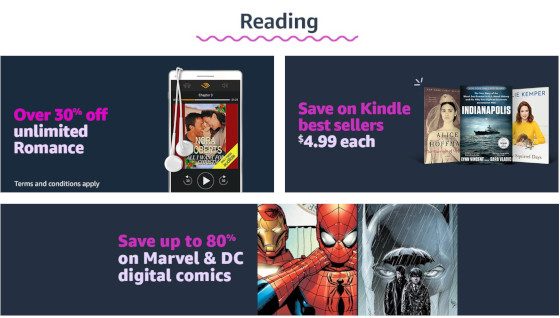 December 28th marks Amazon's third annual Digital Day where they have a bunch of deals on all things digital.
You can get up to 75% off best-selling Kindle books, up to 80% off Marvel comics, 60% off digital magazines, movies are on sale, so is tax software, the Fire HD 10 is $99 again, and there are lots of other deals too.
Here's the main landing page at Amazon with the Digital Day Deals.
Amazon's Digital Day is a one-day only event so stock up while the deals are good.
Here's a list of the best reading-related deals:
Up to 75% off Kindle best-selling books
Up to 80% off best-selling Marvel and DC digital comics
Up to 60% off digital magazines
Get 3 months of Kindle Unlimited for $0.99
Kindle Unlimited up to 40% off
Get 3 months free of Amazon FreeTime Unlimited for $2.99
$99 Fire HD 10 tablet with Audible trial (Amazon's press release says it comes with a 3 month free trial to Audible but that's not mentioned anywhere on the product page so who knows…)
Over 30% off Unlimited Romance on Audible