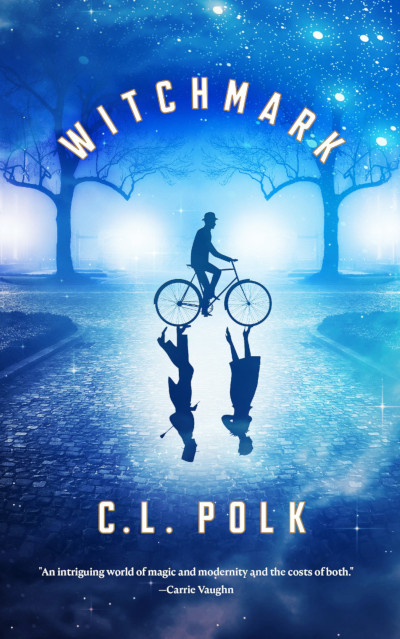 It's time for another free monthly ebook from Tor's eBook of the Month Club.
To get the free ebook all you have to do is sign up for Tor's monthly newsletter over at Tor.com.
The ebook is only free for a few days, from now through February 15th, 2019.
This month's free book is Witchmark by C. L. Polk.
The blurb says it was rated one of the best books of 2018 by NPR, Publishers Weekly, BuzzFeed, the Chicago Review, BookPage, and the B&N Sci-Fi and Fantasy Blog.
The book has a 4.5 star rating at Amazon with 103 reviews, where the Kindle edition is selling for $7.99, so you might as well get it now from Tor directly while it's free.
Tor's free ebooks are DRM-free and they're available to download in both ePub and Mobi formats so you can read the ebook on any device or app that you want.
If you want to read the book on a Kindle you can sideload it via USB or use a send to Kindle app to wirelessly send the Mobi file to your device.
Here's the description for the book:
In an original world reminiscent of Edwardian England in the shadow of a World War, cabals of noble families use their unique magical gifts to control the fates of nations, while one young man seeks only to live a life of his own.

Magic marked Miles Singer for suffering the day he was born, doomed either to be enslaved to his family's interest or to be committed to a witches' asylum. He went to war to escape his destiny and came home a different man, but he couldn't leave his past behind. The war between Aeland and Laneer leaves men changed, strangers to their friends and family, but even after faking his own death and reinventing himself as a doctor at a cash-strapped veterans' hospital, Miles can't hide what he truly is.

When a fatally poisoned patient exposes Miles' healing gift and his witchmark, he must put his anonymity and freedom at risk to investigate his patient's murder. To find the truth he'll need to rely on the family he despises, and on the kindness of the most gorgeous man he's ever seen.