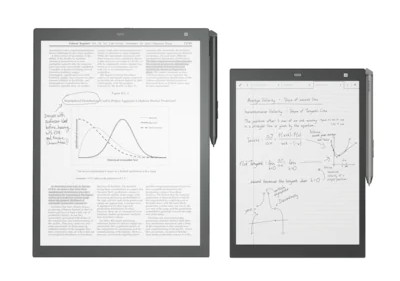 Sony is currently running a sale on their Digital Paper devices, including the 13.3-inch Sony DPT-RP1, both white and black versions, and the 10.3-inch Sony DPT-CP1.
The sale price of the Sony DPT-CP1 is $499 and the sale price of the Sony DPT-RP1 is $599. Both are on sale at Amazon and other authorized resellers like Adorama and B&H.
Every once in awhile Sony does these $100 off deals; at least they don't mess around with minor $20 off sales like some companies.
They're still pricey but large screen ereaders cost a lot these days, especially the Onyx Max2 Pro that sells for $849.
Sony's Digital Paper devices have exceptional hardware but the software is rather basic. They are PDF ereaders and digital notepads only; they don't support any other formats and they cannot connect to the internet, but they are more secure than other devices.
See my Sony DPT-CP1 review from last summer for a complete list of features and to see the device in action. Both models run the same exact software, and Sony recently updated their mobile apps to make transferring content easier.