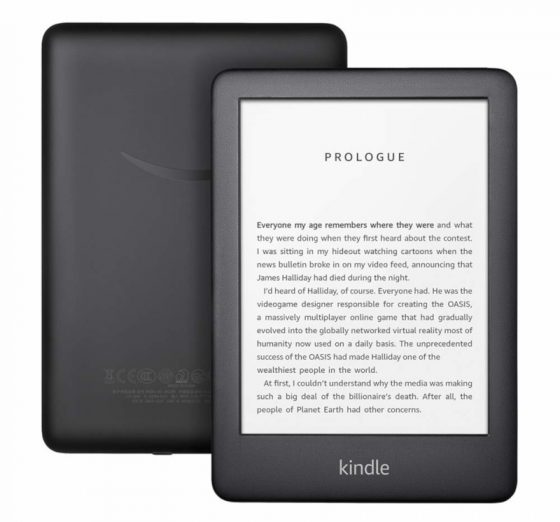 Amazon has just announced a new Kindle for 2019. It's a new entry-level model with similar specs to the previous model, but it has an updated design and they added a frontlight.
The new Kindle gets released on April 10th. Pre-orders start now. It sells for $89 with ads and $109 without. It's available in both black and white.
The new Kindle has the same low resolution 6-inch screen with 167 ppi as the last model, but it sounds like they've upgraded it to an E Ink Carta screen at least.
They don't say it has a Carta screen specifically but the press release does say it has "the latest electronic ink technology for better contrast", so that sounds like it's definitely using a Carta screen.
The press release also mentions that it uses a capacitive touchscreen, unlike the last model that used an infrared touchscreen. They say the change was made to help avoid accidental presses, but I've never had a problem with that when using infrared touchscreens and ereaders with infrared touchscreens have better contrast without the added layer over the screen so some people will consider that a downgrade.
In regards to the new design, the measurements of the older model were 160 mm x 115 mm x 9.1 mm, with a weight of 161 grams. The newer version is actually a bit heavier at 174 grams but it's slightly smaller overall at 160 x 113 x 8.7 mm.
Like the previous model, it has 4GB of storage space, Wi-Fi, and Bluetooth for audiobooks and VoiceView. Battery life is rated at up to 4 weeks based on reading for 30 minutes per day with Wi-Fi off and the light set at 13.
The previous entry-level Kindle sold for $79 so the price has increased by $10 on the new model with the addition of a frontlight. $10 more for a frontlight is a good deal but when compared to the new Kindle Paperwhite that often goes on sale for $99 it's hard to see the value of this new Kindle with lower specs, especially with the low resolution screen.
But on the bright side at least they aren't phasing out the entry-level model like they did with the Kindle Voyage, and it was way past time to do away with the non-frontlit Kindle because frontlights are one of the most useful features when it comes to E Ink ebook readers, and if you don't want the light on simply turn it off.
Hopefully Amazon isn't done releasing new Kindles this year. They really should add a larger Kindle to the lineup instead of just redoing the same 6-inch models over and over again with minimal changes each time.