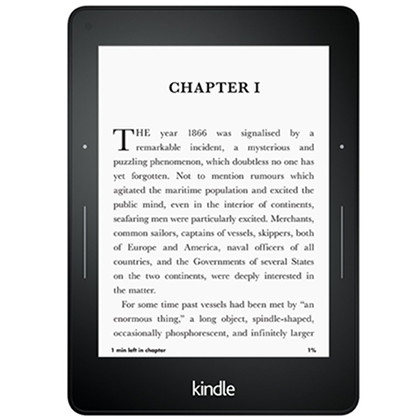 Last week I posted about some deals on refurbished and scratch and dent Kindles at Woot, and now they've added some additional deals on the Kindle Voyage.
Considering the Kindle Voyage has sharper, clearer text with better contrast than any of the current Kindles, and the fact that Amazon has yet to replace it with another premium 6-inch model, it's still a worthy alternative to the newer Kindles.
The Kindle Voyage has a 6-inch 300 ppi E Ink screen like the Kindle Paperwhite.
But unlike the Paperwhite it adds page press sensors with haptic feedback to turn pages, and it has a nicer higher-end design with a glass front screen instead of plastic.
It's not waterproof like the new Paperwhite and it lacks Bluetooth for audiobooks, but the reading features are virtually identical to the newer models, minus the option to read with white text on a black background.
The refurbished units are selling for the same price as the new entry-level Kindle, and there's no question the Voyage is a nicer device with the higher resolution screen, the premium design, and page sensors.
Kindle Voyage – $129 (new)
Kindle Voyage – $114 (open box)
Kindle Voyage – $89 (refurbished)