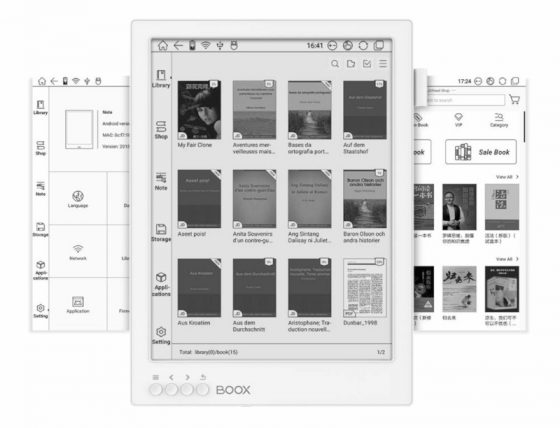 Onyx has released the English version of their 2.1.1 software update ahead of schedule.
The update is available for the following Onyx models: the 10.3-inch Note Pro, the original Note and the Note+, the Nova Pro, and the Max 2 and Max 2 Pro. Other models are expected to get the update at a later date.
If you have one of those devices you can trigger the update from the firmware update tab in the settings menu.
Another option is to download the update from Onyx's support website for your specific model and then copy the file to the root directory of the device—then you can update locally from the settings menu.
They also have links to download the updated user manual for the new 2.1 software from their website, but an easier way to download the manual is to go to settings on your Boox and tap the device icon.
You can see the 2.1 software in action in the video review for the Onyx Nova Pro. That was an earlier version of the update but most of the things are the same with the 2.1.1 update, minus some bugs.
Here's the list of changes with the new 2.1.1 software update:
Neo Reader 3.0:

1. Optimize UI;

2. Simplify the note-taking operation. Now allow writing directly by stylus and turning pages or menu by fingers;

3. Improve PDF saving speed;

4. Add color writing to PDF functions, including black, white, red, blue and green(visible after exporting to PC)

5. Sidenote now is associated with documents instead of pages.

6. Add word contrast setting.

7. Add touch area custom function(the screen is divided into 9 areas, every area can be customized except for the central one);

Note:

1. Optimize the UI of note toolbar;

2. Add handwriting recognition function(Internet connection required for the first time);

3. Add color writing to PDF functions, including black, white, red, blue and green(visible after exporting to PC)

4. Add template download from the cloud;

5. Allow turning pages by fingers;

6. Now automatically add a new page when to turn after the last page.

System:

1. Add directory pattern to the library, display files by storage directory(only display files in specified folders);

2. The default language of the handwriting recognition function is English. Need to download packages for other languages;

3. Add Navigation Ball (assistive touch) for quick settings;

4. Allow to change settings of optimization while using apps(Navigation Ball required);

5. Add optimizations for app background and font color.

6. Add category for App Store. Multiple file download is supported.