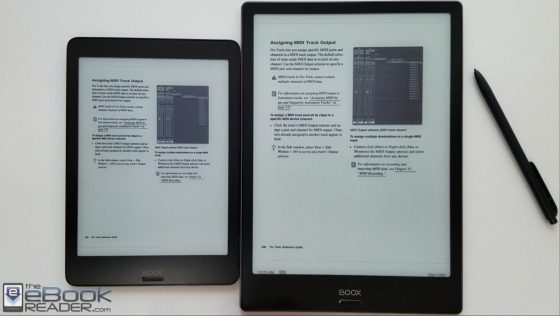 Some folks have been asking about it so here's a quick comparison review between the 10.3-inch Onyx Boox Note Pro and the 7.8-inch Nova Pro.
Long story short, the size difference is the main thing that separates the two models. They have the exact same software with all the same features, and overall performance is nearly identical as well.
Here are the links to the full reviews for a closer look at each model:
Both have a 1.6GHz quad-core processor, Wi-Fi, Bluetooth, USB-C, a capacitive touchscreen, and a frontlight with adjustable color temperature.
They also have Wacom touchscreens and come with the exact same stylus.
The design is very similar as well with a flush glass screen and a back button below the screen, a power button on the top right edge, and a USB port along the bottom.
One minor difference with the build quality, the Note Pro feels a little nicer in-hand. It's rock solid, whereas the back of the Nova Pro sometimes makes light creaking noises when handled.
Having a higher resolution screen is an advantage for the Nova Pro, but everything is scaled up on the Note Pro so it's hard to see a difference in terms of ppi. The Note Pro has a flexible Mobius screen but with the added glass layer you'd never know it.
One thing to consider is the difference in size when it comes to taking notes and drawing on the screen. The smaller screen on the Nova Pro is obviously going to feel more cramped compared to writing on the Note Pro. It's like comparing a small notepad with a larger notepad.
Here's a list of the main differences between the two:
The Note Pro has a 10.3-inch E Ink Mobius Carta display with 227 ppi; the Nova Pro has a 7.8-inch E Ink Carta display with 300 ppi.
64GB of storage space and 4GB of RAM for the Note; 32GB and 2GB RAM for the Nova.
The Note Pro has two built-in speakers and a mic.
The Note Pro has a 4100mAh battery; the Nova Pro has a 2800mAh battery.
The Note Pro weighs 390 grams and measures 249.5 x 177.8 x 7.1mm; the Nova Pro weighs 260 grams and measures 196.3 x 137 x 7.7mm.
There's a big difference in price between the two, with the Nova Pro costing nearly half as much. The Note Pro sells for $599 and the Nova Pro sells for $319. You get all the same features on the Nova Pro so it really just comes down to what size you want and how much storage space and RAM you need.
Note Pro vs Nova Pro Video Review