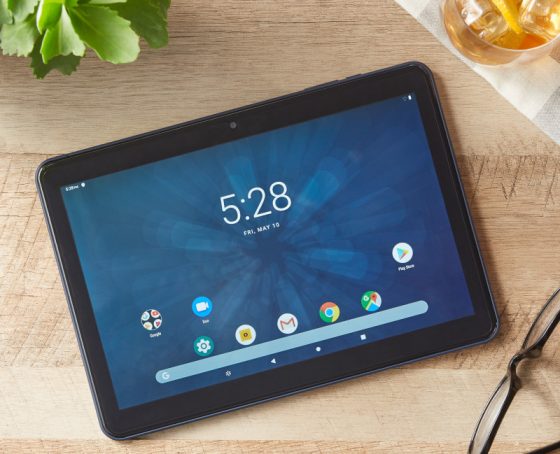 Walmart has released a new lineup of cheap budget tablets under their "Onn" store brand. There's an 8-inch model for $64 and a 10.1-inch model for $79. They also offer the 10.1-inch model with a detachable keyboard for $99.
These new tablets are as much about the ecosystem as the tablets themselves. Much like Amazon's approach with their cheap Fire tablets, Walmart's Onn tablets come with the Walmart shopping app app pre-loaded, along with the Walmart eBooks app, the Vudu video app, and other Walmart apps.
Walmart's tablets have some advantages over Amazon's tablets too.
First off, the Onn tablets run Android 9 and have the full suite of Google apps pre-installed.
Walmart's Onn tablets are also cheaper than the equivalent Fire tablets. Plus you don't have to pay an $15 extra to get rid of screensaver ads.
However, Amazon's Fire HD 10 tablet has a nicer higher-resolution screen than Walmart's 10-inch tablet, and it has twice as much storage space. Otherwise the specs are fairly similar between the two brands.
Both Onn tablets have 16GB of storage space, 2GB of RAM, a microSD card slot, dual band WiFi, Bluetooth, and low-res front and rear cameras. They have an undisclosed 1.3GHz quad-core processor. Both have a 1280 x 800 ISP display.
One thing to question is the battery life. Both list just 5 hours in the specs section. If accurate that's a big negative. Amazon claims the Fire HD 8 and 10 can get up to 10 hours of battery life.
Interestingly there isn't a 7-inch model to match Amazon's cheapest $49 Fire tablet, but once you pay the extra $15 to get rid of the ads it's the same price as Walmart's larger 8-inch model with a nicer screen and double the RAM.
It looks like Amazon has some competition in the low-end tablet market.
8″ Onn Tablet – $64.00
10.1″ Onn Tablet – $79.00