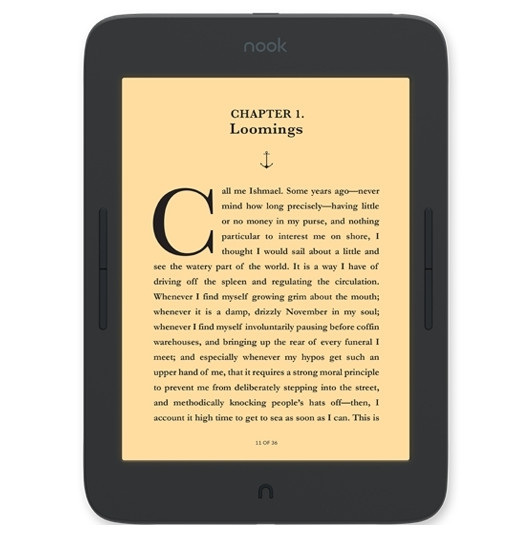 Yesterday Barnes and Noble issued a mysterious press release about the upcoming release of a new 7.8-inch Nook Glowlight Plus.
It's getting released in stores on May 27th, and it will be available online from Barnes and Noble's website starting May 29th.
Apparently they aren't going to bother listing the new Nook Glowlight Plus on their website until then because it's still not showing up anywhere a day after they announced it.
If the name sounds familiar it's because they already used that exact same name for a previous Nook, the one prior to the Glowlight 3. That will make shopping for covers and accessories a bit confusing.
The new Nook looks a lot like the Glowlight 3, which B&N sells for $119, except the bezels aren't as huge. It has page buttons on both sides of the screen, and the trademark Nook button below the screen.
It has a 7.8-inch 300 ppi E Ink screen and a frontlight with adjustable color temperature. It comes with 8GB of onboard storage space. It's also waterproof. That's pretty much all we know at this point.
Hopefully the new Nook will come with a round of software updates and they aren't just porting the old software over from the Nook Glowlight 3 because it's known for being one of the buggiest Nooks yet.
It's good to seen B&N doing something different, though. This is the first Nook ereader with something other than a 6-inch screen. And the price is reasonable at $199.