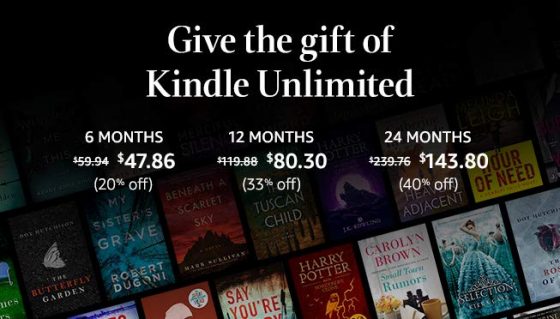 For those that use Kindle Unlimited, Amazon's ebook subscription service, it's worth noting that Kindle Unlimited gift subscriptions are still on sale at up to 40% off the regular price for new members and active members.
Amazon started the deal the week before Mother's Day and it's still ongoing.
If you already have a Kindle Unlimited subscription you can "gift" the deal to yourself to extend your Kindle Unlimited term at a discounted price.
They've also extended the 2 months of Kindle Unlimited for $0.99 deal.
Previously the offer expired on May 31st but now it runs through June 30th.
The regular price of Kindle Unlimited is $9.99 per month so you can get a pretty big discount with these deals depending on how long you subscribe. With the gift deals the discount increases with longer terms.
6 months – $47.86 (20% off)
12 months – $80.30 (33% off)
24 months – $143.80 (40% off)
If you are giving a Kindle Unlimited membership as a gift to someone they have the option to exchange it for an Amazon gift card if they want.