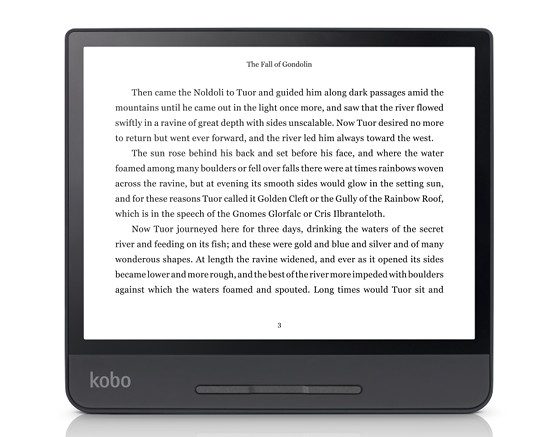 I've always been a big fan of having dedicated page-turn buttons on ebook readers, having the tactile feel of a button under the thumb.
I find it easier to rest a thumb in one spot and being able to lightly press down to page forward than having to swipe a finger or thumb across the screen and readjust my grip every 30-60 seconds.
Don't get me wrong. Touchscreens are great for everything else. But when it comes to reading, having page buttons is simply more convenient.
For some reason having page buttons has turned into a premium feature when they used to be common across all models.
Most smaller 6-inch models don't have page buttons at all anymore; in most cases you have to pay a premium price just to get a simple button these days.
Here's a list of the currently available ebook readers with page buttons, in no particular order.
Kindle Oasis
The Kindle Oasis is the only current Kindle with page-turn buttons. They are located on one side of the screen only, and it has a sensor so you can flip the device to switch hands, which can be mildly inconvenient. The page buttons can be switched in settings so you can have the forward and back keys on the top or bottom, whichever you prefer.
Kobo Forma
The Kobo Forma has a design similar to the Kindle Oasis with the page buttons on one side that functions as a handle of sorts. The Forma has a sensor to flip the screen so you can use the buttons on either side, as well as in landscape mode, although it can be rather slow to adjust at times. You can also switch the buttons so you can have forward and back where you'd like. Holding down the button scans through pages quickly with Kobo-formatted ebooks.
Nook Glowlights
Both the 6-inch Nook Glowlight 3 and 7.8-inch Glowlight
Plus have front and back page-turn buttons on both sides of the screen, making switching between left and
right-handed reading easy. The page buttons also let you skip chapters with a double-press, and you can scan pages quickly by holding the buttons down. The buttons can also be switched in setting so you can have the forward and back buttons on either the top or bottom.
Onyx Boox
The Onyx Boox Max2 and Max2 Pro with a 13.3-inch E Ink screen are the only current Onyx model with dedicated page buttons. However, you can use wireless Bluetooth page turners with Onyx's ereaders, including the Nova Pro and Note models.
Likebook Mimas
The 10.3-inch Likebook Mimas is one of the only 10″ models with dedicated page buttons (the Remarkable is another but it's more of a notepad than an ereader). The buttons are located in the lower right corner so you kind of have to go out of your way to use them but they are handy when they work (except sometimes they stop working for no apparent reason).
Other Options
Some other reading devices that have dedicated buttons include Inkbooks, but their software can be really buggy. Pocketbook is another brand with page buttons but they don't have any distributors in North America so they can be hard to buy.