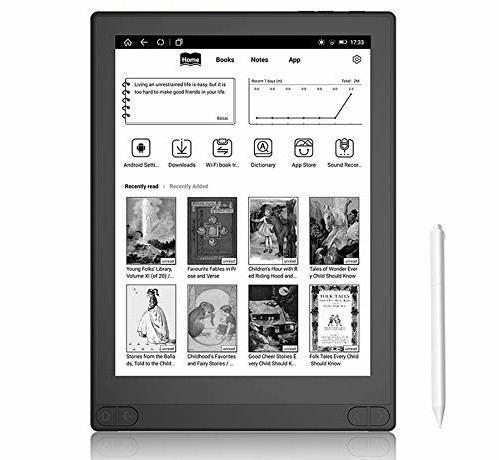 Review Date: May 2019 – Review unit purchased from Amazon
Overview
The Likebook Mimas, model number T103D, is a 10.3-inch E Ink notepad and ereader from a company based in China called Boyue.
The Likebook Mimas is very similar to the 7.8-inch Likebook Muses that I reviewed a couple months ago. The custom Android 6.0 software is pretty much the same but the Mimas adds a microSD card slot, a headphone jack, and buttons for page-turning.
Like the smaller model, the Mimas has a Wacom touchscreen, Wi-Fi, Bluetooth (for keyboards and speakers), USB-C, a 1.5GHz octa-core processor, 2GB of RAM, dual speakers and a mic.
The Likebook Mimas currently sells for $479. If you're not familiar with these types of devices that probably sounds high, but not when compared to similar models. It's actually $120 less than other 10.3-inch ereaders like the Note Pro, Sony DPT-CP1 and Remarkable.
The Hardware
The Likebook Mimas has a 10.3-inch E Ink screen with 227 ppi. I really like the 10.3-inch screen size. It's big without being too big. Frankly the 13.3-inch models are a little unwieldy and cumbersome to lug around.
There's an added protective layer over the front of the screen that's hard so it doesn't really feel any different than writing on the glass screen of the Onyx Note Pro.
The Mimas I got came with a white stylus instead of the usual black stylus that comes with most other Wacom ereaders. The white stylus is thicker and a bit nicer, but it lacks the button on the side for erasing—it still has a button on the top for erasing, like the black one.
Along with the Onyx Boox Note Pro, the Likebook Mimas is one of the first larger-screen ereaders to have a frontlight. It has cool and warm color settings, and there's an app that lets you blend the two.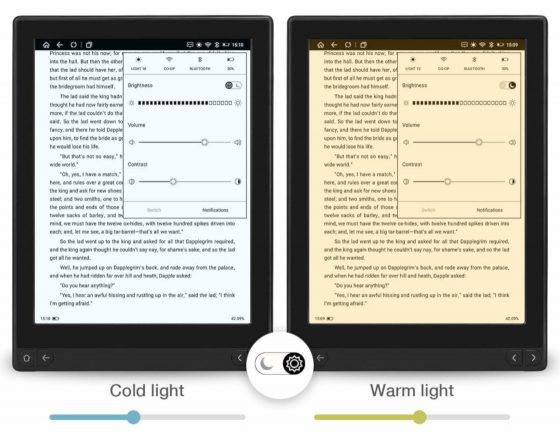 The frontlight is slightly dimmer at full brightness with the larger screen, and it's a little brighter in the lower left corner, but overall the light looks good and it helps make the background appear lighter and the text stand out more.
Another advantage with the Mimas is the fact that it has physical home and back buttons, plus page-turn buttons. I'm a big fan of having page buttons on reading devices. You can even use the buttons with apps that support using volume buttons to turn pages. The only problem is with the built-in reading app there's an annoying bug that sometimes makes the page buttons not work, which requires restarting to get them working again.
The overall size is a bit larger than other 10.3-inch ereaders and it weighs 444 grams. Compare that with Sony's 10.3-inch model that only weighs 234 grams. Even the Note Pro with the added glass screen only weighs 390 grams. The Likebook does have a larger battery so that can partially account for the extra weight.
Software
When it comes to the software it's basically the same story as the Likebook Muses. It runs Android 6.0.1 and is open to install apps. It comes with a few apps pre-installed, including a basic appstore with a few reading-centric apps like Kindle and KOReader. It has Google Play Store access as well if you go into application settings and enable Google Framework.
The Kindle app available is an old version from several years ago that doesn't support the newer format or newer features. It works fine (and the page buttons even work with it) but it's majorly outdated. I tried installing a newer version but it would not work. That's the kind of thing to expect when using Android ereaders. Getting 3rd party apps to work is hit or miss, and it requires a lot of patience to get everything setup.
Note App
The performance of the Wacom stylus is pretty much the same as all the other Wacom-equipped E Ink ereaders. There's an included Notes app with several templates, and you can load your own. You can also use the stylus to write directly on PDF files.
The included Note app on the Likebook Mimas is fairly basic but it works well enough. Here's the list of features:
Note App Features List
Two pen types: one with pressure sensitivity, one without.
Two line color options: black and white.
20 line thickness settings.
5 eraser sizes.
3 eraser options: range, track, and all (with PDFs there's a stroke erase option that's oddly missing from the Note app).
You can circle an area to move and resize the selection.
19 note templates are included but unfortunately there's no way to set a default.
You can add multiple pages to a note, and view thumbnails of multiple pages at once.
Undo/redo.
Disable capacitive touch.
Copy/delete pages.
Export as PNG or PDF, and to Evernote.
Book App
The included ebook app has a number of flaws. Basically it makes up it's own styling rules instead of following conventional standards so it's pretty much worthless.
However, the app is serviceable when it comes to PDFs. It suffers from excessive ghosting issues so you do have to set page refresh frequency to every page. But it does have some usable zoom modes to get rid of margins, and you can use the stylus to write notes directly on PDFs. The main issue is text selection does not work well with PDFs so if you do a lot of highlighting or looking things up in the dictionary look elsewhere.
Here's the Likebook Muses PDF review for a list of all the PDF features. Everything is mostly the same with the larger Mimas, except they've since fixed the issue of handwritten notes overlapping menus.
Likebook Mimas Review
Pros
Intriguing list of features: large frontlit E Ink display, Wacom stylus, microSD card slot, page buttons, Android 6.0, 8-core processor.
Lots of capabilities being able to install apps, although many won't work well with E Ink screens.
Less expensive than similar 10.3-inch models like the Onyx Note Pro, the Sony DPT-CP1 and Remarkable.
Cons
The software is buggy and lacks refinement, and the included ebook app is seriously flawed.
Note app pretty basic compared to other E Ink notepads.
Bigger and heavier than similar models.
Verdict
It's hard to recommend the Likebook Mimas because of the flawed software, but there are still things to like about it and it's perfectly usable in its own way. The Onyx Boox Note Pro is the superior device in most respects when comparing both side-by-side, but the Likebook Mimas costs over a $100 less and offers many of the same features.
It's just a matter of what features are important to you and how you plan to use the device. The Likebook Mimas doesn't fair well against the Note Pro, but I'd still take it over a Remarkable or Sony DPT-CP1 any day. The Likebook Mimas has some flaws but it also has a frontlight, page buttons, a memory card slot, and the open Android operating system adds a lot more functionality.
Likebook Mimas Specs
10.3-inch E Ink Mobius Carta screen.
1872 x 1404 pixel resolution (227 ppi).
Wacom touchscreen with stylus, supports 4096 levels of pressure sensitivity.
Capacitive touchscreen (2-point).
Frontlight with option to use cool and warm color temperatures.
Android 6.0.1 operating system.
RK3365 8-Core 1.5GHz processor.
16GB storage space.
2GB RAM.
MicroSD card slot supports cards up to 128GB.
Wi-Fi.
Bluetooth 4.1.
USB-C port.
3.5mm headphone jack.
Physical page buttons, back and home buttons.
Dual speakers, mic.
Supported formats: EPUB, PDF, MOBI, TXT, FB2, HTML, PPT, DOC, plus more via 3rd party apps.
Weight: 444 grams.
225 x 184 x 7.5mm.
Battery: 4700mAh.
Sells for $479 on Amazon.
Likebook Mimas vs Onyx Note Pro Comparison Review
Likebook Mimas Video Review