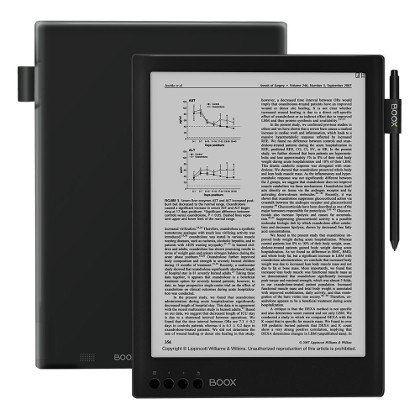 A couple of large-screen ebook readers and digital notepads have turned up on sale today.
The 13.3-inch Onyx Boox Max2 is marked down to $649. That's $100 off the regular price.
The Max is Onyx's largest model. Unlike Onyx's other ereaders, the Max has an HDMI port so you can use the device as an E Ink computer monitor.
See my Onyx Max2 review for a closer look at the device in action. Onyx has updated the software a few times since then so you might want to check the Note Pro review too for a look at the newer features and updated user interface.
The 10.3-inch Likebook Mimas is marked down to $459. It normally sells for $479 so it's not a big difference but every little bit helps.
The Mimas was just released a couple months ago. Even when it's not on sale it's the least expensive 10.3-inch model with a frontlight. It has page buttons and a memory card slot. The software is a bit buggy but it's a lot more advanced than some of the other 10.3-inch models out there.
See the Likebook Mimas review for more details.
Both devices have Wacom touchscreens for note-taking and drawing and both have Android 6.0 operating systems with the option to install Google Play. Onyx's software is better and more advanced, but the Likebooks are a lot cheaper and the software has potential if they can get things straightened out.