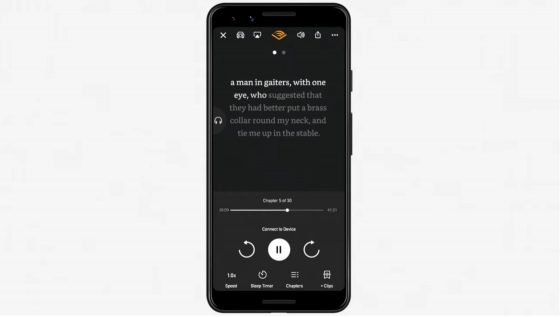 Last month Audible revealed an upcoming new Audible Captions feature that gives Audible app users the option to read along with audiobooks as they're read aloud.
Basically the app adds computer-generated captions to audiobooks to allow reading while listening, but before the feature has even been released to the public, book publishers have filed a lawsuit against Audible to try and put a stop to it on grounds that Audible doesn't have the rights to distribute audiobooks in text form.
All Big Five major publishers are onboard with the lawsuit.
Here's a quote from The Verge with the reasoning behind the complaint:
"Audible Captions takes publishers' proprietary audiobooks, converts the narration into unauthorized text, and distributes the entire text of these 'new' digital books to Audible's customers," the lawsuit reads. "Audible's actions — taking copyrighted works and repurposing them for its own benefit without permission — are the kind of quintessential infringement that the Copyright Act directly forbids."
Audible is marketing the feature as a learning tool for students, and they claim that the computer-generated text isn't the same as a book because of limitations on how the feature can be used.
Here's Audible's take on the situation:
"We are surprised and disappointed by this action and any implication that we have not been speaking and working with publishers about this feature, which has not yet launched. Captions was developed because we, like so many leading educators and parents, want to help kids who are not reading engage more through listening. This feature would allow such listeners to follow along with a few lines of machine-generated text as they listen to the audio performance. It is not and was never intended to be a book. We disagree with the claims that this violates any rights and look forward to working with publishers and members of the professional creative community to help them better understand the educational and accessibility benefits of this innovation."
Basically it's the whole text-to-speech controversy all over again back when Amazon started offering text-to-speech on Kindle ebook readers. Except now it's the opposite, where the fight is against speech-to-text. Ultimately it'll probably work out the same as the TTS thing did, where publishers and authors have the choice to allow the feature or not.
See here for more about Audible Captions over on Audible's website.
via: The Verge