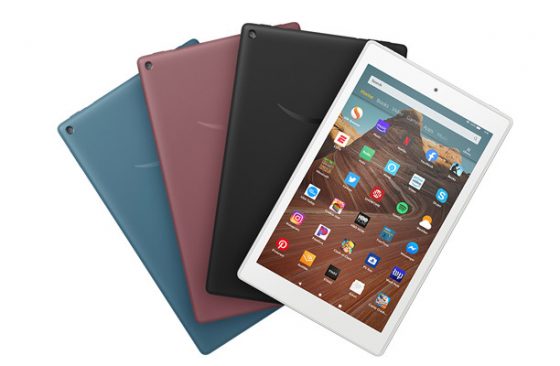 Today Amazon announced the upcoming release of a new upgraded Fire HD 10 tablet with a faster processor, longer battery life, and a USB-C port, which was a good idea on their part considering the outrage from some when the Kindle Oasis 3 was released with an old school USB port.
Amazon has started accepting pre-orders for the new Fire HD 10, starting at $149 for the 32GB model with ads and $189 for the 64GB version, and there are four different colors to choose from.
The new Fire HD 10 tablet gets released later this month on October 30th.
Amazon claims the upgraded 2.0GHz octa-core processor is 30% faster than the 1.8GHz quad-core processor on the last Fire HD 10.
Battery life has been bumped up to 12 hours from 10 hours, and the switch to USB-C will facilitate faster charging (although the upgraded adapter is sold separately, of course).
The new model also supports microSD cards up to 512GB, doubling the previous model, and it has enhanced 802.11ac Wi-Fi support, according to Amazon. It still has the same low resolution front and rear cameras, though. And it has Alexa support built-in, of course.
The Fire HD 10 also features Amazon's latest Fire OS 7 operating system that is based on Android 9. Among the new software features is a picture-in-picture mode that lets you stream videos (including Prime and Netflix) while browsing the web, checking email, etc.
The Fire HD 10 is Amazon's best tablet for reading because it has a nicer high resolution screen (1920 x 1200 with 224 ppi) than the 7″ and 8″ Fire tablets, and since Amazon still refuses to release a large-screen Kindle, the Fire HD 10 is the only large model that Amazon offers.