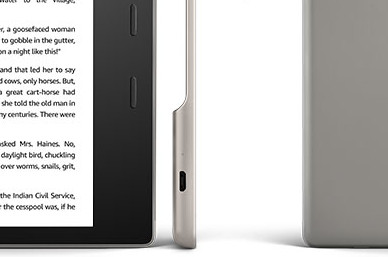 It's amazing how many complaints there have been lately about Kindles and other ebook readers not having USB-C ports, especially the new Kindle Oasis.
In fact, the top review for the new Oasis at Amazon is a 1-star review with the sole complaint that the new Kindle lacks USB-C and how that's completely unacceptable and the Kindle project engineer should be fired.
The reason it's the first review shown is because people have hit the "helpful" button below the review more times than any other review, with over 400 people finding the review helpful (apparently people really want that engineer fired).
Using Amazon's search tool, there are a number of reviews complaining about the lack of a USB-C port. It seems like it's one of the biggest complaints, along with battery life.
Some people consider the lack of a USB-C port a 1-star offense that can't be overlooked, and others just consider it a minor negative.
I like USB-C as much as the next person, especially since it doesn't take three tries to find the right way to plug it in, but I fail to see why it's such a big deal on Kindles and ebook readers in general. The Kindle Oasis charges unusually fast as it is with the old micro-USB port, and I'd rather transfer files wirelessly than by USB anyway so the advantages are lost on me.
Regardless, Amazon better have a USB-C port on the next new Kindle or people are going to start a riot.