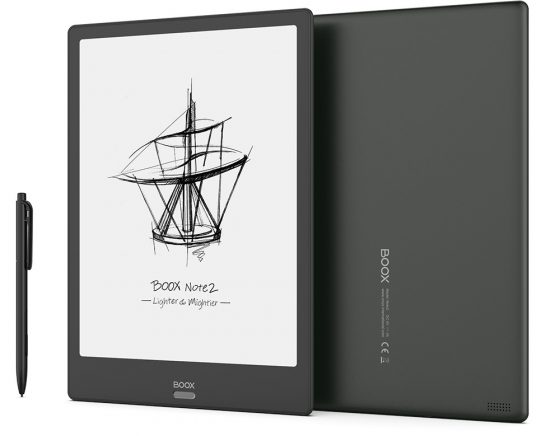 If you've been considering getting a 10.3-inch ereader and digital notepad from Onyx, there's no better time than now.
Onyx has started taking orders for the new 10.3-inch Boox Note2 on their website, and the first 100 orders get a free accessory pack that includes a cover, a USB-C hub, a stylus tether, a wall adapter, and a screen protector.
At $549 the price remains the same as they were charging for the Note Pro so at least the price didn't increase with the upgrades.
Shipping is from China and the estimated shipping time is 5-15 business days.
If you'd rather order from Onyx's Amazon store, they'll most likely start accepting orders in a week or two once Amazon's warehouses get them in stock.
If you don't care about the upgrades on the Note2, you can get the nearly-identical Onyx Note Pro on clearance for only $449.
The Note Pro was released 6 months ago so it's not like it's outdated yet; Onyx just likes to release newer models every few months (the Note2 is something like the fifth or sixth different Note model released in the past two years).
If you're unsure which model to get you have to ask yourself if the following features on the Note2 are worth paying an extra $100 for:
USB OTG support.
5GHz WiFi support.
Fingerprint sensor.
Octa-core 2.0GHz processor vs quad-core 1.6GHz.
The Note2 is slightly lighter (12 grams) and it has a slightly larger battery (200mAh).
To me the Onyx Note Pro is the best large-screen E Ink ereader on the market. Personally I have no interest in the upgrades on the Note2, but for those that need dual band WiFi support, USB OTG, and a fingerprint sensor for added security, it'll be a better option than the Note Pro. One thing that's nice about USB OTG is you can use an adapter to connect microSD cards to the device.
Update: Onyx is now selling the Boox Note2 on Amazon for $549 plus shipping. I'd advise waiting until shipping is free to buy it.