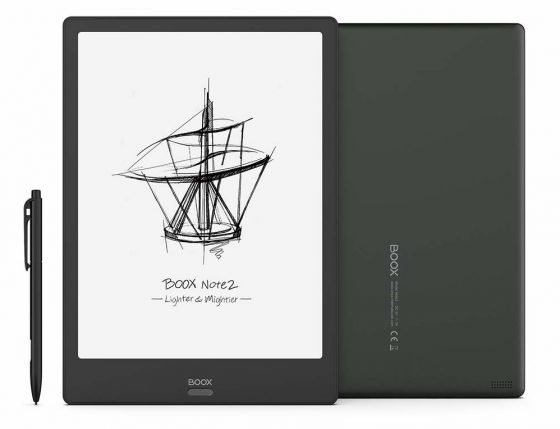 Last week Onyx released their latest 10.3-inch ereader and digital notepad, the Boox Note2, and they started taking orders for it from their website.
Now the Onyx Boox Note2 is also available to purchase from Onyx's Amazon store.
It's selling for $549 plus $30 for shipping.
Shipping is usually free so I'd wait a few days for Amazon's warehouses to get some in stock.
The Boox Note2 is 90% the same as the Onyx Note Pro that was released earlier in the year; the overall design is exactly the same and the software will be the same once Onyx releases the Android 9 update for the Note Pro.
The Note2 adds a fingerprint sensor, USB OTG support, 5GHz WiFi support, and it has a 2.0GHz octa-core processor instead of the 1.6GHz quad-core processor that came on earlier models.
The OTG support allows for connecting things memory cards, keyboards, mice, and other tools using an adapter.
The Note2 has a 10.3-inch E Ink Mobuis screen and it has a frontlight with adjustable color temperature. It has both a capacitive touchscreen and a Wacom touchscreen.
If you want to see what the upgraded Android 9 software looks like, check out the Onyx Max3 review. The one difference is the Max is the only model with monitor support.