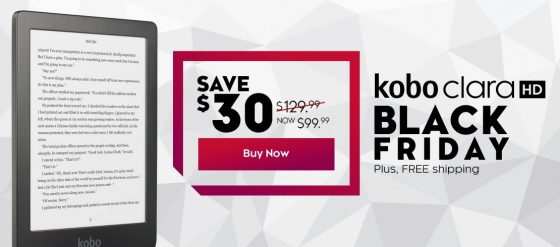 Yesterday I posted about how Kobo has started offering Black Friday deals on select ebooks and their audiobook subscription plan, and now today Kobo has revealed their Black Friday "deal" on Kobo ebook readers.
In typical Kobo fashion, it's one of the weakest Black Friday sales among dedicated reading devices.
Kobo is such an odd company sometimes. They frequently offer sales and do promotions when it comes to selling ebooks, but they rarely put Kobo devices on sale and almost never give people any extra incentive to buy one.
Here's their epic deal of the year: The Kobo Clara HD is $20 off the regular price, so that takes the price down to $99 at Kobo, Walmart, and even Amazon.
The funniest thing about it is Kobo has forgotten how much they charge for the Clara HD. They lowered the price to $119 a few months ago, but they are advertising the deal as $30 off, except that's from the original price of $129. But even their own website shows the regular price is $119.
Wow, $20 whole dollars off the 6-inch Kobo Clara HD. What a great deal! Forget the $30 off discounts they did earlier in the year.
Don't get me wrong. The Kobo Clara HD is a nice device for $99, but would it kill Kobo to put one of their larger models on sale for a change? In three years they literally never put the Kobo Aura One on sale a single time. They're still trying to sell the 32GB version for $279 to this day.
Compare that to Amazon's Black Friday Kindle deals where they're taking $30 off the entry-level Kindle, $45 off the Kindle Paperwhite (the Kobo Clara HD equivalent model), and $100 off the Kindle Oasis 2, not to mention the sales on ebooks, Kindle Unlimited, and Kindle covers. Even Barnes and Noble is taking $30 off of Nooks, including the new model.
But Kobo is back again with yet another lackluster Black Friday deal just like they do every year. I predicted this would happen earlier in the week when I said, "They usually just take like $20 off their lowest end model and call it a day."
Another year, another wasted opportunity for Kobo to sell more ereaders.