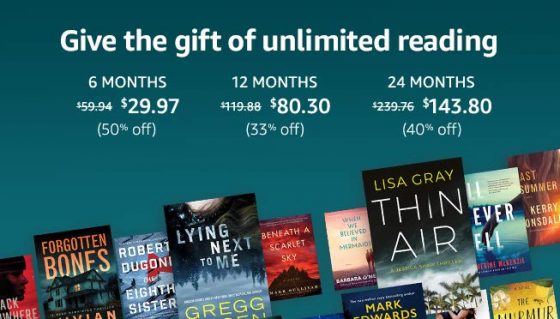 Amazon's epic Kindle sale for Black Friday and Cyber Monday is over, but a few Kindle-related deals still remain active (including the $149 Kindle Oasis with 32GB and no ads deal), and they've just rolled out a new Kindle Unlimited offer for new and returning subscribers.
The deal gets you a 3-month Kindle Unlimited subscription for $0.99. It normally costs $9.99 per month after a free 1-month trial to get access to Amazon's catalog of Kindle Unlimited ebooks, audiobooks, comics, and magazines.
You can cancel immediately after subscribing to avoid the $9.99 per month charge after the 3 months has ended.
Amazon also still has the 50% off 6-months Kindle Unlimited deal active where you can get 6-months for $29.97 if you don't qualify for the 3-months for $0.99 deal.
Like usual these deals only apply to Amazon's US Kindle Unlimited store and not everyone gets access to the same deals.
The annoying thing is if you're a current Kindle Unlimited subscriber Amazon often hides most of these types of deals so that you can't even see them. Like right now they only show the 20% off 6 months deal when viewing the Kindle Unlimited page at Amazon. They don't even show the 50% off gift deal. But I bookmarked the page last time and it still shows up so apparently the deal is still active.
3-month Kindle Unlimited subscription for $0.99