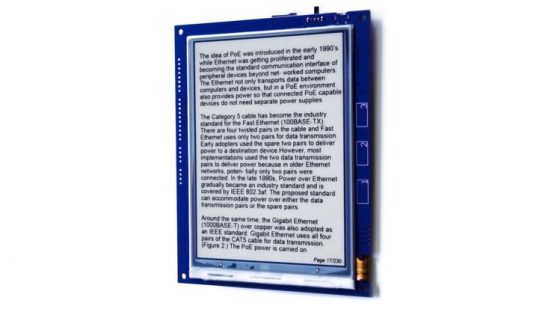 Another odd-ball open-source DIY project involving E Ink screens has surfaced in the form of the Inkplate 6.
Basically they're using old Kindle screens in conjunction with Wi-Fi and Bluetooth equipped ESP32 microcontrollers to create a multi-purpose E Ink device that uses Adruino IDE or MycroPython to control the contents on the screen.
The idea is to use the Inkplate 6 for a variety of DIY projects.
In theory it can be used for things like displaying the weather or calendar events, it could be used as a mini word processor, or as an open source ebook reader, or whatever anyone feels like coming up with and writing the code for.
The Inkplate 6 features a 6-inch 800 x 600 E Ink screen and has a microSD card reader, three capacitive touch pads, and a micro USB port.
The Inkplate 6 costs $99 and is expected to ship in April 2020. It's currently available via a crowdfunding campaign at Crowd Supply.
Along with the open book project, the idea of the Inkplate 6 sounds cool, but practically speaking it makes little sense. No one is really going to be using an Inkplate 6 for word processing or to develop an open hardware ebook reader that anyone is ever going to actually use.
You can get a brand new Kobo Aura from Walmart for $69 and refurbished Kindles with 300 ppi screens can often be had for $59. Even an open box Kindle Voyage is only $89 at Woot. All of which can be hacked and modded for those with the skills and desire to do so.
Inkplate 6 Video Demo