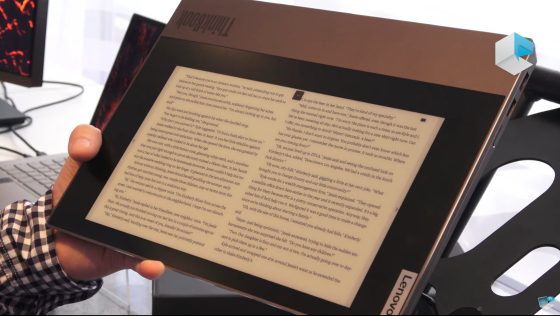 Lenovo is showing off some new laptops at CES this year, and among them is a new model with a secondary E Ink display called the ThinkBook Plus.
This isn't Lenovo's first device with an E Ink screen. A couple of years ago they released the Yoga Book C930, a dual-screen device with an E Ink and an LCD screen that folded together, but that was more of a hybrid device than a laptop.
The ThinkBook Plus has a traditional 13.3-inch LCD display, and on the back it has a secondary 10.3-inch E Ink display.
Lenovo is expanding on some of the features for the E Ink screen from their Yoga series.
One cool thing is they've added native Kindle support so you can read your Kindle books on a larger E Ink screen, which is nice since Amazon refuses to release a large Kindle.
It also comes with a stylus pen for writing notes and the notes can be synchronized with Microsoft OneNote. The device also supports PDFs natively with the E Ink screen, and you can use the stylus to write notes on PDFs.
The E Ink side can be used to show things like email notifications, calendar events, and weather reports as well.
The ThinkBook Plus has a 10th gen Intel i7 processor and it runs Windows 10 Pro. Memory options are 8GB or 16GB with either a 256GB or 512GB SSD. It has Alexa support built-in as well.
The ThinkBook Plus is scheduled to get released in March/April and it's expected to sell for $1199.
Notebook Italia posted the YouTube video below with a detailed look at the Thinkbook Plus in action.
Lenovo Thinkbook Plus Dual-Display E Ink