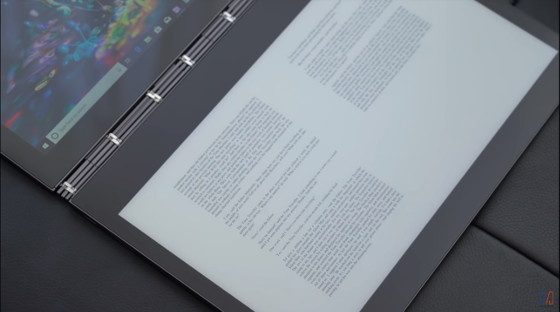 Today Lenovo unveiled the Lenovo Yoga Book C930, which combines an LCD screen and an E Ink screen into a foldable notebook type of device with a flexible hinge connecting the two screens.
The Yoga Book C930 is a lot like the dual screen Tiger Rapids PC that Intel showed off earlier this summer.
The 10.8-inch E Ink display can be used as a keyboard, complete with haptic feedback, and it can also be used as a PDF reader and digital notepad.
Apparently they plan to add support for more formats like ePub and Mobi, but at launch you'll only be able to read PDFs on the E Ink screen.
It also has a Wacom touchscreen with support for 4,096 levels of pressure sensitivity, and you can write on the E Ink screen and LCD screen.
The Yoga Book C930 runs Windows 10 and it comes equipped with a 7th-gen Intel processor so it's a lot more powerful than a typical ereader, and yet its ereading features appear to be very basic. It sounds like the E Ink screen can only be used as a keyboard and to read PDFs and write notes.
The Yoga Book C930 is expected to go on sale in October with a starting price of $999.
Lenovo Yoga Book C930
via: PC World