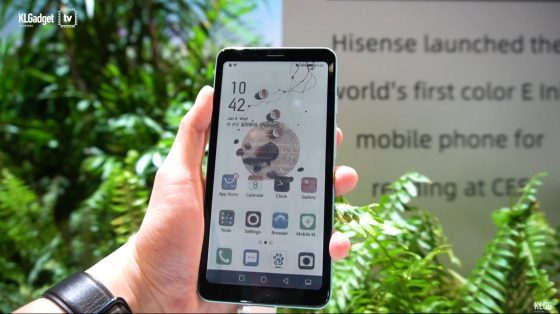 Hisense has a new E Ink phone that they're getting prepared to release later this year. It's the first to use a color E Ink screen, and a video has turned on YouTube showing the new color E Ink phone in action and it looks pretty cool.
According to early reports, the phone will use the new Print Color technology that E Ink recently announced.
The screen can display 4096 colors and it has low power consumption thanks to the E Ink technology.
The response time of the color screen looks surprisingly fast in the video below. The colors aren't bad either, considering it's E Ink.
Hisense has released several different E Ink phones over the past few years so they have plenty of experience working with the technology.
This new phone has an entry-level Qualcomm processor, 4GB of RAM, 32GB of internal storage space, and a rear camera.
Unfortunately Hisense's E Ink phones aren't sold anywhere in the US so if you want one you have to buy it from some Chinese website that you've probably never heard of before.
So far there's been no official word on a release date or the price, but early reports suggest it could get released around the middle of 2020.
Hisense Color E Ink Phone