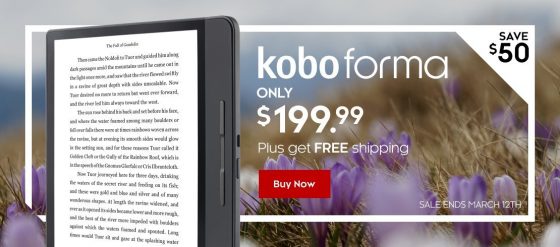 Kobo is having a long-overdue sale on their website where they have the 8-inch Kobo Forma on sale at its lowest price ever.
That's right. The Kobo Forma is marked down to $199 for the 8GB model, $249 for 32GB, and the 6-inch Kobo Clara HD is on sale too at $99.
That's $50 off the regular price of the Kobo Forma and $20 off the price of the Clara HD.
Both include free shipping. The deal expires on March 12th, 2020.
Oddly the Kobo Forma doesn't appear on the Walmart website anymore, but they do have the Clara HD marked down to $99 as well.
This is the first time that Kobo has put the Forma on sale. It used to sell for $279 when it was first released so this is a considerable discount over what it used to cost.
Last year they lowered the price to $249, the same price as the Kindle Oasis. But the Forma has a larger display and a more durable plastic-backed screen. The Forma is still the only device on the market to use that specific screen from E Ink. It's surprising that more companies haven't started using plastic substrates to make their ereaders lighter and more resistant to screen cracks.