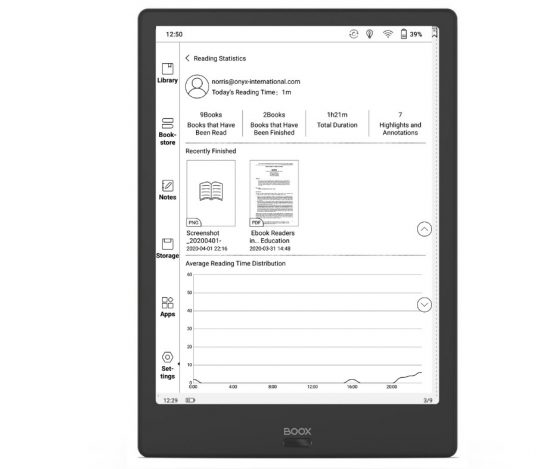 Onyx has released a fairly significant software update that adds several new features to the most recent lineup of Boox ereaders.
The new 2.3 firmware update is currently available for the 10.3-inch Onyx Note2, the 7.8-inch Nova2, and the 13.3-inch Max3.
Onyx also claims the update will gradually be rolled out to other models soon.
The 2.3 update adds a number of new features and contains a lot of bug fixes, according to Onyx.
They added a new floating menu bar to the built-in ebook app, along with a Reading Statistics page, and now you can enable a Scrolling Mode with PDFs. These are shown in the video below.
They also added the option to password protect documents in the library, and now handwritten notes on PDFs can be edited when transferred to other devices.
The Onyx Note app now supports syncing notes with the ONYX Cloud to easily move notes between different devices.
On a system level, they added a new setting to control the font size of the interface, much like a regular Android tablet.
There are a number of other changes as well. Here's the link to the full changelog for the 2.3 update for more details about the new features and bug fixes.
Personally I'm hesitant to update to the new 2.3 software. Some of the new features look pretty cool but I'm not sure about the new floating toolbar. I'm not a fan of having distracting overlays all over the screen and it's unclear if the arrow icon can be disabled. The scrolling feature looks neat too but that adds two more icons over the screen. Add the NavBall icon and bookmark icon and you have 5 different images over the top of the page—talk about distracting—but at least those latter four can be disabled.
To update your Boox device go to Settings — Firmware Update — Check for Updates to update via Wi-Fi. You can also download the update from Onyx's Support website and then transfer it to your device to manually update.
Onyx Boox Firmware Update V2.3