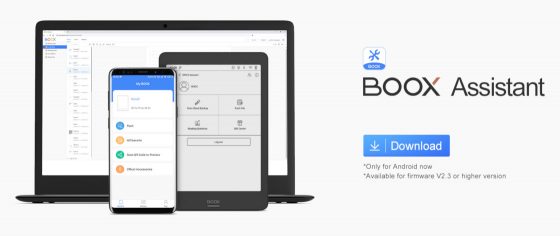 Onyx recently released a new Boox Assistant app that allows you to easily share and sync notes and documents from Onyx devices with Android phones and tablets.
The Boox Assistant app can be used to wirelessly transfer things like ebooks, PDFs and web articles from your phone to your Boox device, and it can also be used to sync and backup notes added to ebooks and the dedicated Notes app on your Onyx ereader.
The app does not appear to be available from Google Play yet or even Onyx's own appstore, but the Boox Assistant app is available to download from Onyx's support website.
It requires firmware version 2.3 or higher on your Onyx device, so it won't work with their older Android 4 models.
After installing the app you have to create an Onyx account (for free) to start sharing and syncing content with your mobile device and Onyx ereader.
Currently they offer 1GB of free cloud storage space.
The video below shows how to push documents and web articles and how to sync notes from the reading app and dedicated Notes app.
The app also has the option to submit feedback if you encounter a problem or want to make a suggestion. You can use the app to update Boox accessories as well, like their Bluetooth remote and page-turn pedal.
Boox Assistant App Video Demo